Very old Meissen or Dresden style figurine with crown above four lines marking
by David
(Portland, Oregon)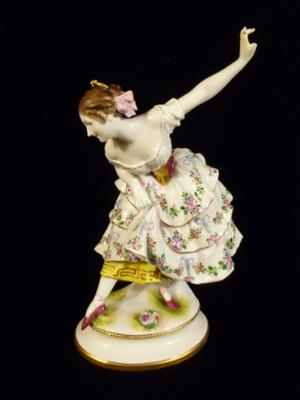 Curtseying German Figuine with arm aloft
Hi Peter


I spotted this beautiful lady doing her curtsy in a collectible and vintage mall in Portland, Oregon. I could tell immediately - because of the craftsmanship and artistry - that she had some age to her and the mark was interesting.
The dealer who sold her identified her as Beyer & Bock but I haven't been able to find any Beyer and Bock marks that look like this.
I am both a collector and a dealer and it is frustrating to spend hours on research and to still not be able to come up with an accurate identification.
I began my love of old things as a young man in my twenties when I had a job that had me driving all over the US. I would stop at old book stores to begin with and I complied quite a library of old books. The only downside to this was that I turned out to be allergic to dust and mites - something that a love of old books doesn't exactly make a good partner with.
My love of old books turned into my love of all things old and I began going to antique stores and malls hunting for treasures of all kinds. I have always been drawn to old metalware - spelter, bronze, and brass items - and to old porcelain pieces. I also have a love for old paintings and artwork - mostly realism and impressionism.
My collecting and part-time dealing has become quite a hobby and I love nothing more than having a few hours (and sometimes, luckily, an entire day) to go and browse for treasures in out-of-the-way places. It's usually quiet in antique stores and malls and I can turn off my brain from the other stresses and pressures of everyday life.
I suppose that I have 'the eye' for spotting quality items. I consider that a gift. I can see an entire wall
full of shelves of old ceramics – porcelain and pottery – and can immediately spot the one or two items that are of the highest quality.
I remember being down at the Oregon coast at an antique mall and a beautiful vase caught my eye. I didn't know what the mark was at the time but after a diligent search on the internet I discovered the item to be a 19th century KPM piece. I paid about $40 for it and that turned out to be a good investment. I still have the vase because I love it but someday should I go to sell it I'm sure I'll realize a bit more than the $40 that I paid for it.
Another fun find was a 19th century KPM dessert plate that had all-over enamel beading. It cost me a whopping $9. I listed it for sale on the internet for $695 and it sold overnight for full price. I guess maybe I should have priced it higher but I was quite happy with my return.
It's so much fun to learn about all these old things. It is a continual process of exploration and investigation and research and so much fun to learn the histories of the individuals and companies that created these increasingly rare items.
The thing that I most love about old(er) things is that the quality back then was so much better than it is today. Artisans who were uniquely gifted spent innumerable hours honing their crafts and skills to create these beautiful works of art. Today, most things are machine-made and lack the quality of materials and care that went into the creations of yesteryear.
I am quite hopeful that I might get some help identifying this mark on this graceful and beautiful figurine.
Many, many thanks to anyone and everyone who takes the time to help me identify this lady's ancestry and family history.
Kind regards,
David