WK heart with arrow through pottery marking on Grandparents old ceramic lamp with glass and ceramic flowers
by MA Merritt
(Caledonia NY)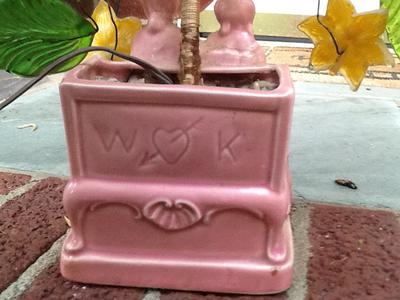 WK heart with arrow through pottery marking
As a young child I adored these lamps at my grandparent's house. They were kept in their bedroom and the grandchildren were not allowed in there. I would sneak in there, turn them on and just look at them. The heart with the arrow through it caught my attention at that time and was the only mark I remembered. I thought it stood for the two lovers who were sitting together.


My grandparents were born in Sicily and moved to the United States in the early 1900s. Their house was filled with beautiful brightly colored Italian and European glass, ceramic figurines, lamps and dishes. I would help my grandmother (Nana) clean these. She had a special dust cloth to clean them and that was the only way she would allow me to clean them. That is where my love for these items began.
My grandparents passed away when I was a teenager. And being a teenager, I had no interest in my grandparents beautiful colored Italian and European glass, ceramic figurines, lamps and dishes. The lamps and all the beautiful glass and ceramics disappeared. Later, when I left home and moved into an apartment of my own, I thought of these beautiful items and wished I had a couple of them.
I use to rent a small space in an antique co-op and specialized in glass/ceramics. I would find myself being attracted to all the beautiful brightly colored Italian and European glass and ceramics and again started remembering my grandparents', especially those lamps. I started to search for lamps similar to them. I would travel all over western New York to auctions and estate sales hoping to find lamps or glass similar to my grandparents. While I did
find a lot of beautiful brightly colored Italian and European glass and lamps, I never came across lamps like those with a mark of a heart with an arrow through it, as at that time that was all I could remember about those lamps and its mark. I did a lot of research and purchased many books including Kovel's book of marks. But never came across any mark of a heart with an arrow through it.
Recently I had to clean out my parents' house and was thrilled to find the lamps packed away. My mother told me that my father, who passed away 15 years ago, knew I loved them and kept them for me, but with time, had forgotten about them. I still have not cleaned off the dust for fear that I would ruin them. Now that I have the complete mark I really started my search. I have gone through all my books and have done numerous searches online with several different search engines. I did find a lamp on Ebay that was labeled lighted vintage Venetian glass flower lamp, but there was no mark shown. This is the first time that I have been unable to identify a mark and am frustrated with that. My grandparents were simple middle class blue color workers and I cannot imagine that they would have anything that was priceless or out of the ordinary in their possession.
Once I find out the maker I would love to have the lamps restored, valued, and if necessary insured. It would be greatly appreciated if you could please help me find who made these beautiful lamps. I would also be interested in buying other pieces from this maker.
Thanks,
MA Merritt