5 prong Crown Pottery Mark Over a Cursive "D" on a "Rape of Europa"
by Benny
(Israel)
Five prong Crown Pottery Mark Over a Cursive "D" on a "Rape of Europa":- Hi, I've bought this nice porcelain figurine on a flee market around a year ago, and since then I'm trying to understand the origin of this mark.


It supposed to be 19's century, probably Dresden.
This figurine is quit big and looks old. The mark is located under glaze.
Please assist.
Regards
Benny
=============================
reply by Peter (admin) below - just scroll down...
HOW I MADE MONEY FROM BITS & BOBS OF OLD CHINA

.....more
Reply by Peter (admin)
To:- Five prong Crown Pottery Mark Over a Cursive "D" on a "Rape of Europa"
======================================
UPDATE:-
A visitor has come up with an answer - "Wolfsohn, Helena used a crown with a cursive D under it between 1850-1881. Yours looks like it. I hope this helps. See.....
http://www.porcelainmarksandmore.com/saxony/dresden_2/00.php"
Read my answer below before you accept this as gospel
==================================
end update
below is my original reply unedited.....
Hi Benny
Many thanks for your interesting query and your nice photos.
Great submission, not least because it flags up an area of research on pottery and porcelain marks which is not well documented either online or offline (as far as I can see) - that of the modern Dresden decorating studios operating in the middle part of the 20th Century.
Dresden probably yes, 19th C probably no.
Although my 'thing' is more 20th Century UK makers, I have been doing quite a bit of research on this particular type of crowned 'D' Germanic style of mark.
Please treat the following as theory only and possibly not necessarily correct. I am not an expert in this area - just interested in finding out more.
Here are my ideas about the 'D' with crown porcelain marks:-
First thing to say is the classic mark associated with the ceramic industry of the city of Dresden decorators (not to be confused with the Meissen porcelain factory, a distinctly separate entity, the originator of European porcelain production who have their
own set of very distinctive marks) is the mark is a Crown with the word 'Dresden' beneath.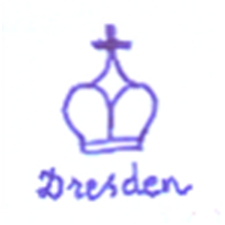 In the 1880's other people had the idea to use this mark, namely Helena Wolfsohn, but were slapped down and stopped by the 4 porcelain decorators who had agreed to reserve this mark for themselves (see this
Dresden Porcelain Marks article
).
Helena Wolfsohn of Dresden
is the first maker I can find using the cursive 'D' and crown. Her decorating studio opened in 1843. She had to stop using the original crowned Dresden mark and began using a crowned 'D' with three prongs instead.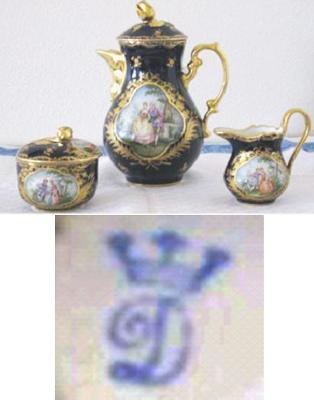 Then around the middle of the last century a loosely associated group of Dresden decorators used various versions of the cursive crown 'D' porcelain mark.
In no particular order, these makers were Karl-Heinz Klette of Küps, Bavaria (I have only seen a 7 prong crown in association with this maker). Klette was somehow possibly associated with Franz Sieber in Rudolstadt (Thuringia) later to become Gisela Keilhauer (still producing today - and associated with a 5 prong crown). Sieber was producing prolifically in the 1920s and 1930s in soviet occupied East Germany (more info see
Dresden D Crown mark Query
)
Another maker who is attributed with a 5 prong crown 'D' mark is Höffner & Co founded in 1951 in Sandizell, Bavaria. This maker used many migrant workers who fled form Thuringia after the war and produced a wide array of Dresden type figures and gift items, sometimes using the 5 pronged crown with D and sometimes a 5 prong crown 'N' rather like the Italian Capodimonte mark.
Further reading:-
German specialist website and source
Dresden D Crown mark Query
collectible figurines period costume lady
So I can't really identify which maker your mark pertains to - just the background of which makers it might be.
Best regards,
Peter (admin)
p.s. The following page is a 'must see' if you are researching fine china - for value and identification:-
Researching the identity and value of antique and vintage fine china
.