Anchor Mark Query - Boys Playing Marbles Figurine
by Karen
(Flagstaff, Arizona)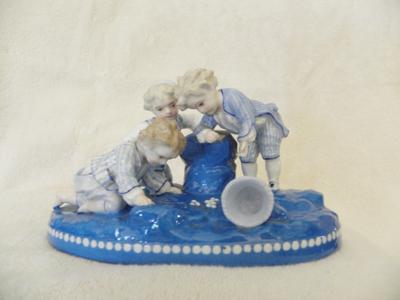 Anchor Mark Query - Boys Playing Marbles Figurine
Anchor Mark Query - Boys Playing Marbles Figurine:- I worked at an antique store about 2004 for two days. In payment for my work, I agreed on the pottery piece pictured.


The piece is 6 7/8 inches X 4 1/8 inches.
It has a dark green anchor mark on the bottom that is in a glaze finish. Also on the bottom is a 3/4 inch scribe mark in an unglazed spot that appears to be the number 74. There are no other marks on the piece.
The owner, who has now passed away, apparently thought this was a valuable piece and had it in her store for several years. I just loved the look of the little boys at play - the value did not really matter to me.
Karen
======================================
Please contribute to this thread by writing in the comments section below – just scroll down...
HOW I MADE MONEY FROM BITS & BOBS OF OLD CHINA

.....more
The forum Help Elf says:-
Karen
Interesting story. I like bit of the old bartering going on - it reminds me of the old days. Very nice figural group of cute kids concentrating on their game.
======================================
UPDATE:-
======================================
Stewart has very kindly written in to supply the answer to this query which is Vion & Baury. Please scroll down and read Stewart's explanation in the comments
section, and my reply which gives links to further information about this maker....
======================================
END UPDATE
original answer continued below unedited.....
With regard to your anchor mark it doesn't look like any of the usual suspects shown in my books. Unless someone very knowledgeable pitches up on this thread, I don't believe this mark will be identified in a hurry. I think even an expert in ceramics would likely not be able identify the maker from that particular mark.
The style of blue and white figurine depicting children was perfected in Europe by the exquisite work of Bing & Grondahl (B&G) of Copenhagen. Your figure is clearly done in this style, but is not quite in the same class, and so I don't think would be in the same price bracket. There is 'homage' and there is 'the real thing'. Your item is 'homage', in my view.
B&G figurines are exceptionally classy, stunningly sculpted by geniuses and made by equally talented technical artisans. To me these Bing & Grondahl are priceless treasures. Your figure is nice and very cute, but not B&G quality.
If you want to see what I mean, read this page and make sure you scroll down to Peter's photographs and contribution:-
Bing & Grondahl (B&G) Children Figurines
For general free advice on how to research china/porcelain collections, Peter wrote this page:
value of antiques
.
H.E.