Antique and Fine China - AW DEKOR FRIESIS BLAU
by Sue Anderton
(Cornwall U.K.)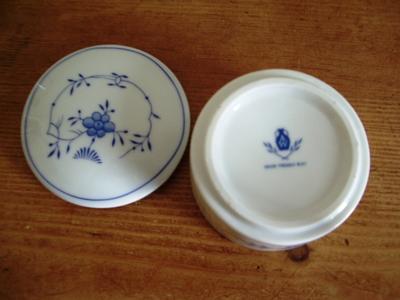 Antique and Fine China - AW DEKOR FRIESIS BLAU
Antique and Fine China - AW DEKOR FRIESIS BLAU:- I have 2 items from a car boot sale. Same pattern same make. not english - that I do know. They both have under the emblem -DEKOR "FRIESIS BLAU". I dont know the language but I imagine Scandinavian or North European. THe emblem has AW - A above the W in white on a blue 2 handled urn - there is also 2 crossed 'olive' branches under the urn.


I have searched google and am now cross eyed - Anyone out there recognise them and any idea of value as I want to ebay them!
Are they porcelain - china or what?
Sue
=================================
Please contribute to this thread by writing in the comments section below – just scroll down...
HOW I MADE MONEY FROM BITS & BOBS OF OLD CHINA

.....more
Antique and Fine China - AW DEKOR FRIESIS BLAU
Peter (admin) says:-
Sue
Your are suffering from something known as GBO (Google burn out). The solution is to have a lie down and possibly a sip of wine, put your feet up and read a good book.
I did my own Google search as well as looking in my books for the mark. The only thing I found was a webpage full of this stuff on
a foreign (European website in a funny language). There was a whole collection of exactly the same pattern showing......
http://www.teekiste.com/shop/index.php?cat=c57_Friesisch-Blau-Porzellan--AW--.html&XTCsid=0ff3a2c2c2efb40d3a1efd91c1eed54a
Using Google translation I found out The AW DEKOR FRIESIS BLAU pottery mark translates as "Frisian OR Friesian blue porcelain".
However, this got me nowhere because nothing is showing in further Google searches for the English translation at all.
SO I checked and 'Frisian' relates to a person or item connected with the areas known as Friesland or the Frisian Islands. They were an ancient Germanic tribe of North Holland who spoke a language called Frisian closely related to both Dutch and Old English.
The word 'frisi', as in hair style, is said to come from this tribe, as does the cattle breed.
What does all this mean? This is perhaps a particular style of Dutch Delft. How old it is and how much its worth is a job for a specialist, so if no one comes forward on this thread, please feel free to let me pass your pictures onto an expert by going here:-
My vintage and antique china values page
Meantime, knowledgeable contributors please try to help
Peter (admin)
p.s. The following page is a 'must see' if you are researching fine china - for value and identification:-
Researching the identity and value of antique and vintage fine china
.