Antique China - Mysterious 'X' Mark On Large Oriental Vase
by Daphne
(UK)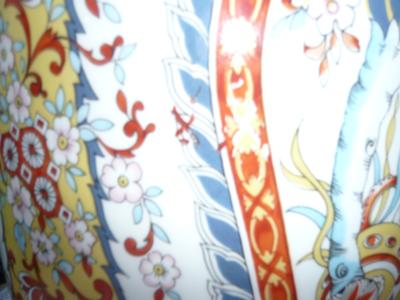 Antique China - Mysterious 'X' Mark On Large Oriental Vase
Antique China - Mysterious 'X' Mark On Large Oriental Vase:- As a 17 year old unlike most people my age, I'm rather fascinated by antiques. I picked up this vase from a charity shop today, it's in a very good condition, it has a stamp on the bottom saying


'MANUFACTURE OF VASES. ARTISTIC CERAMICS.' as well as what looks like a deliberate colour transfer from part of the pattern that looks like a red 'X' with two dots above and below it.
Any information on this would be much appreciated.
Thanks! :)
Daphne
==============================================
Please contribute to this thread by writing in the comments section below – just scroll down...
HOW I MADE MONEY FROM BITS & BOBS OF OLD CHINA

.....more
Antique China - Mysterious 'X' Mark On Large Oriental Vase
Hi Daphne
Many thanks for submitting, and hope you are finding the site useful. Good for you. This is a fascinating area and my guess is one day you will be on the Antiques Roadshow TV show as a resident expert. Remember me when you are!
To do that, join a big international Auction House like Christies or Sothebies and learn your stuff.
A photo of the mark is a must. You must have forgotten! I'll forgive you because of your tender age.
What I know about your vase is that it is very much in the Japanese Kutani style. Kutani ware is variously described (I have an article on this site which gives some background - just use the search box on the homepage to locate it),
but for me, the characteristic is always an orange coloured accent and very intricate and beautiful stylized Japanese looking decoration.
During the Meiji period of Japan (1868-1912) this Kutani style was revived and around 70 percent of production of this Kutani (Shoza) style was exported.
Experts can tell by the style of decoration when the item was made - these items have continued to be made until modern times, so be aware of that. Also there are also always tell-tale signs of ware on the base if the item has a certain age - another reason to always show a photo of the base.
To an expert, this area is complicated, to a non-expert like me this is a minefield. For example, Kutani can be found in many different colors and styles and there are sub-groups which experts talk about.
It is the Shoza style Kutani which some commentators associate with the "Satsuma style" and dates from the end of the Edo period in the 19th C. (before the Great Paris Exhibition of 1867).
Your first project should be to really Google-up your knowledge on this area of Japanese ceramics. The history is fascinating and the more OCD you are about it the better!
If I had have had Google in my day, maybe I would now be an Antique Roadshow expert myself.
p.s. The following page is a 'must see' if you are researching fine china - for value and identification:-
Researching the identity and value of antique and vintage fine china
.
Please post comments below which you think might be helpful……