Antique & Fine China Collectibles - Limoges Dinner Set - Green Fleur de Lis Mark
by Drew
(Ontario canada)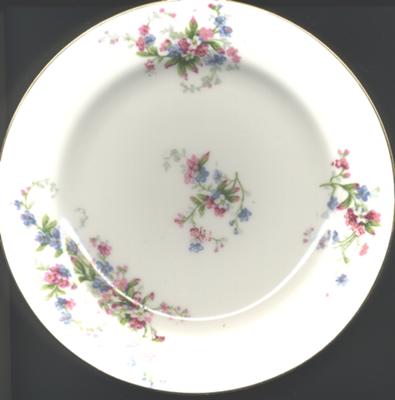 Antique & Fine China Collectibles - Limoges Dinner Set - Green Fleur de Lis Mark
Antique & Fine China Collectibles - Limoges Dinner Set - Green Fleur de Lis Mark:- Inherited 12 place Limoges dinner set from my grandmother, likely given to her as a wedding gift in early 1920s. - would like to know maker and pattern


Drew
=========================================
Please contribute to this thread by writing in the comments section below – just scroll down...
HOW I MADE MONEY FROM BITS & BOBS OF OLD CHINA

.....more
Antique & Fine China Collectibles - Limoges Dinner Set - Green Fleur de Lis Mark
Hi Drew
I don't know this particular green fleur de lis 3 feathers Limoges mark, so if anyone else has any information please try to help with this one (check out the comments section below for replies).
I looked in my books but found nothing under 'shield' marks or Limoges that fitted this description. Maybe it's obvious and I missed it.
Best regards
Peter (admin)
p.s. The following page is a 'must see' if you are researching fine china - for value and identification:-
Researching the identity and value of antique and vintage fine china
.