Antique & Fine China - Vintage Japanese Kaneyama Kiln Ginger Jar
by Erika
(CA)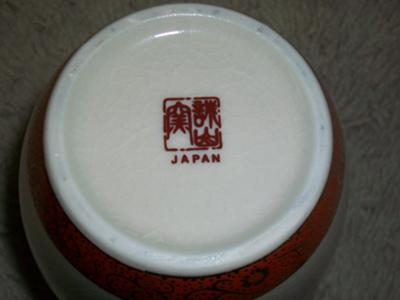 Antique & Fine China - Vintage Japanese Kaneyama Kiln Ginger Jar
Antique & Fine China - Vintage Japanese Kaneyama Kiln Ginger Jar:- I bought this at an estate sale and could not find the maker's mark anywhere on the internet. I found out that the japanese writing reads, "The Kaneyama Kiln." But I have scoured the internet/books and I cannot find anything about the maker.


I would love to know what era it is from and any history about the Kaneyama Kiln, if possible.
Thank you!
Erika
===============================
Please contribute to this thread by writing in the comments section below – just scroll down...
HOW I MADE MONEY FROM BITS & BOBS OF OLD CHINA

.....more
Antique & Fine China - Vintage Japanese Kaneyama Kiln Ginger Jar
Hi Erika
I have done some digging about what Kaneyama is, or was. As usual with Japanese ceramic manufacturing, it is shrouded in myth, mystery, and obscuration. So not easy research at all.
First thing I noticed is that 'Kaneyama' is an everyday Japanese surname, so anyone with that surname can can mark their pottery with that name.
Secondly, I was reading that according to local legend there was a pottery called Kaneyama in Koka, Shiga Prefecture. It was gone and no one knew quite where it used to be until they discovered the ruins of the Kaneyama kiln in a place called Shigaraki.
The giant wood burning kiln was then reconstructed (most of it buried in the ground) in a place they called Shigaraki Ceramic Park whihc is now visited by potters all over the world. It
takes 5 days to stoke it up to firing temperature and 5 days to cool down.
Then I was reading another account of a potter called David Adam (see http://www.davidadam.com/j93/kane1.html) who was in a place called Goshogawara in the 19990's (many hundreds of miles away from Shigaraki with no possible connection). David talks of visting Kaneyama Yaki (Kaneyama Pottery) run by an expert and highly respected potter called Matsumiya.
So after much Google burn out we are really no better off, apart from Kaneyama may be a legendary style of pottery from Japan, little known in the West and that various people make in that style and call their wares Kaneyama Yaki.
This is fairly typical of 'Yaki' in Japan in my experience. Nothing is ever easy to research as they seem to think more in terms of individual masters or Sensei making a traditional school or style of pottery than individual pottery firms (e.g. Arthur Wood & Co) making various ranges, collections or patterns. It's a different way of thinking.
If anyone has pieces with this pottery mark let us know what you have or if you know about this Japanese kiln/pottery please also let us know - it all adds to the knowledge base here. Post via the comments link below.
Thanks
Peter (admin)
p.s. The following page is a 'must see' if you are researching fine china - for value and identification:-
Researching the identity and value of antique and vintage fine china
.
Please post comments below which you think might be helpful……