Antique or Fine China english ironstone green /white patterned plate
by debbie
(wales)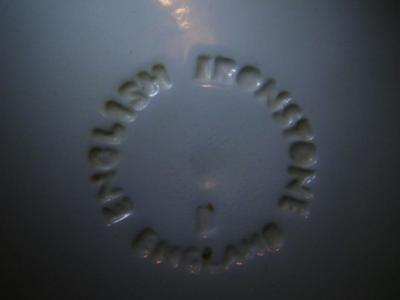 Antique or Fine China english ironstone green /white patterned plate
Antique or Fine China english ironstone green /white patterned plate:- I am looking to find how old this plate is and a bit about it . i picked up 4 from a car boot for one pound . the hall mark says english ironstone england. the plates has green pattern with a scene of horses and hounds gathering for a hunt in a farm yard. cant seem to find anything on the hall mark any ideas


Debbie xx??
=======================================
Please contribute to this thread by writing in the comments section below – just scroll down...
HOW I MADE MONEY FROM BITS & BOBS OF OLD CHINA

.....more
Antique or Fine China english ironstone green /white patterned plate
Hi Debbie
I will look into this one and write in the thread below. I have a hunch, but I need to do a bit more research.
Best regards
Peter (admin)
p.s. The following page is a 'must see' if you are researching fine china - for value and identification:-
Researching the identity and value of antique and vintage fine china
.