Back Stamp Query - 'Italy' Capo-di-Monte Trinket Box crown pottery mark with letters GNC inside a diamond
by Michelle
(Portland, Oregon)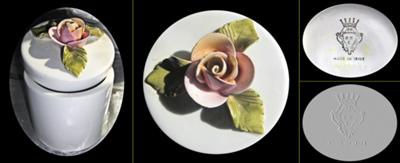 Back Stamp Query - 'Italy' Capo-di-Monte Trinket Box crown pottery mark with letters GNC inside a diamond
Back Stamp Query - 'Italy' Capo-di-Monte Trinket Box crown pottery mark with letters GNC inside a diamond:- I have been trying to identify this little trinket box back stamp for weeks. I would have thought with it's distinct design this would have been an easy task but alas it has proved to be elusive.


I acquired the box at an estate sale. It has such pure charm and beauty. Delicate and simple yet it stands out no matter where you put it. I like to refer to it as simple majestic beauty.
In researching the stamp I have found some leads to go on. I am fairly certain the design would be considered Capo-di-Monte.
At first I thought the stamp was a crown on a young queen's face as the letters G N C make up what looks like eyes and a mouth. With those dove like symbols on the side it looked like long flowing hair to me and the inverted (I think) chalice completed the chin and face.
What an imagination I must have as now I realize that it's a crown with a diamond base with outer symbols and the letters GNC inside the diamond.
These were a few of my suspicions as to it's origin but nothing definitive.
Naples with the potter possibly being :
F. Brandi
G. Baroni Antonio
Bartolomeo Terchi
Any help would be appreciated.
Thank you so much for what you do.
Michelle
========================================
Reply by Peter (admin)
To:- "Back Stamp Query - 'Italy' Capo-di-Monte Trinket Box crown pottery mark with letters GNC inside a diamond"
Dear Michelle
Many thanks for posting your research about your Italian mark.
One of the areas I find most difficult to research is Italian pottery marks.
This country's ceramic industry just did not develop the same way as, say, Germany or the UK (or even the US), where a great many 19th century china manufacturers were competing against each other for both national and international markets (therefore developing distinct pottery marks to set their wares apart from those of their competitors).
In Italy there developed a more localised set of regional ceramic centres, and this development seems to be a 20th century phenomenon, rather than a 19th century one.
The original Naples Capo-di-monte factory closed in around 1800 as a result of the Napoleonic wars - never to re-open. The Ginori company took over some of their moulds (apparently, although some historians dispute this), and used the coronet 'N' mark, and made wares
in the Capo-di-monte style.
However, because the N mark and the Capo-di-monte name was never really trade-marked (1800 was a time before trademarks were invented), virtually anyone who later felt like doing it, could make vaguely Capo-di-monte style wares and call it 'Capo-di-monte'.
In your case, the manufacturer has designed their own mark, but I have no way of looking up Italian marks. Mostly the ceramics industry in Italy is a myriad of local producers supplying a regional market and tourism.
If anyone knows of a good encyclopaedia of Italian marks, please shout as it is a grey area on this site, and online generally.
I have found an online A to Z listing of Italian pottery marks, but only covering the ceramic producing region of Nove / Bassano.
The A - Z list is here:-
www.ceramics.it/marchi_en.html
The Wikipedia entry on the subject of Italian Pottery only yields a mention of a few specific names:-
Albarello
Baldelli
Deruta
Majello
Medici
Orvieto
Urbino
None of which I know much about.
There is a site called italianpotterymarks which is in the form of a forum on various Italian ceramic manufacturers. It does appear to have a fair amount of interesting information, but I find it very hard to navigate around if you are looking for specific information.
For example, if you have a mark like yours, and you want to know whose mark it is, I can't see a way of locating that information on that site.
They do have an 'in-house' search function, but when I put in the search term "crown shield GNC mark", I got zero results. With this site, if you put in the same term, you should come up with this page near the top of the listings (there will be some sponsored ads at the top, of course as it's a Google backed search).
So Italian pottery marks.......
Bit of a dead end for research online, and not many books out there either. The few books that are around seem to be regionally based - and much of the ceramic producing activity seems to be 20th century in Italy, whereas, by contrast, in the UK, Germany and US, the big output seems to have been 19th century (or, at least most of the hundreds of best known companies seem to have begun then - if not earlier).
If anyone can enlighten us about this Italian mark in particular, or Italian pottery marks in general, please do not hesitate to post below. Thanks.
Peter (admin)