China Chat
The Marks of Italy and Spain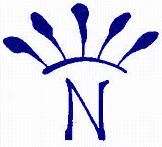 The marks of Italy of course are dominated by the N mark of Capodimonte, Naples.  Capodimonte is not a single factory, but a style of decorative produce which has a particular type of fancy emotive Italian styling.  Most of this produce is a result of 20th century production, not earlier.

These 20th century marks, as well as the styling, is loosely based on that of the old Royal factory of Naples which was largely destroyed during the revolution and Napoleonic wars at the start of the 19th Century.
Some scholars date the end of the Royal Capodimonte factory to 1818 due to the sale of the moulds and equipment for 13,800 ducats. 
The new owners then sold their interests to Ginori in 1834.  Some scholars put the end of the genuine Royal Capodimonte production to 1806.

Whatever the date, Ginori picked up what they could salvage of the moulds and began making reproductions using the original coronet marks. 
No Real Capodimonte Since 1806?

So the tradition of wares being produced and called 'Capodimonte' continued without any real protection of what we would consider today as a trademark. 
The idea of Capodimonte as a marketing concept was revived in the 20th century with many different makers springing up.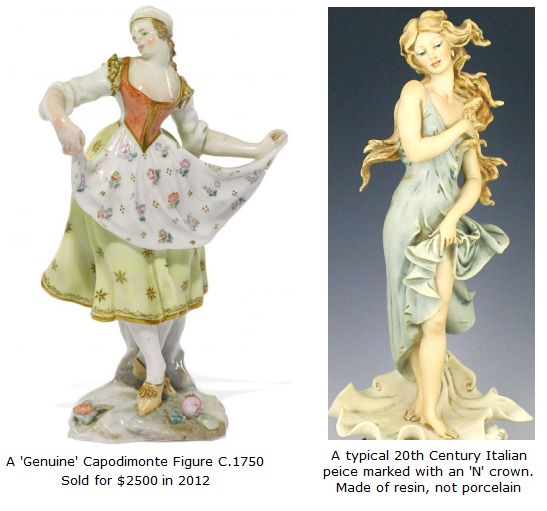 When collectors write in and ask (which they frequently do) "is this a genuine Capodimonte piece?", I am not quite sure what they mean by 'genuine'?
Are they are looking for pieces made before 1806? 
Do they think there is a factory, after 1806, with rights to the name and the mark?
Are they looking for Ginori Capodimonte? 
Do they mean 'made in Naples? 
Do they mean 'made in Italy?
I would love a collector to explain. 
Perhaps there are certain makers with more of a claim to represent the Capodimonte style than others?

Whether there is any regulation of the use of this mark, your guess is as good as mine, but I don't think there is.

There would be very few items of genuine Capodimonte around today that wasn't housed in important collections or museums.
San Marco Figures of Italy
We have a really fascinating thread on the San Marco company.  Someone sent in some really stunning Dresden looking figures with this mark:-

This mark was found on exquisite Dresden lace looking figures like this one:-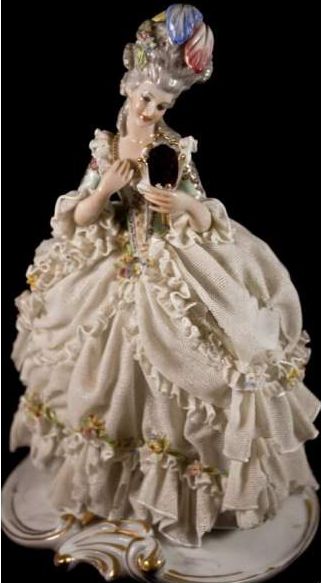 I thought they were 19th Century German, but turns out they are Italian by  a company called San Marco, but I can't find anything else about them.
If anyone knows, please post on the thread below.
Other Examples of Italian Ceramics in Our China Chat Posts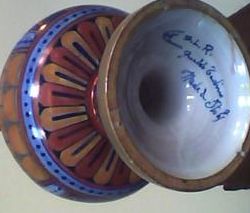 Italy has many thousands of local makers of souvenir ware that has the appearance of a kind of art majolica. 
These types of local marks all tend to be written on by hand rather than marked with a printed backstamp. 
We have various posts on this type of ware.
The most fascinating one so far is about a mark which a helpful visitor  identifies as belonging to the 'Società Luca Della Robbia'.  This is a great thread.

The Mystery of FG Pottery from Italy

This mark is one of our longest outstanding mysteries.  We don't know who this is, please help!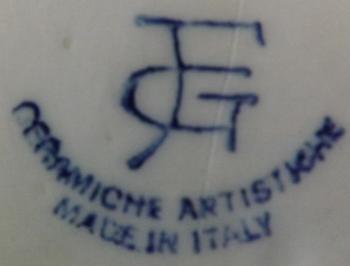 For Spain Read 'Lladro'

The Rococo influence of Italian  Capodimonte can be seen in Spain where the original Royal Italian porcelain factory was moved to when the ruler of Naples became the King of Spain.  Decorative ceramics seem to be dominated by the Lladro company who seem to have swallowed up a lot of smaller makers. 
We have very little going on in term of Spanish ceramics China Chat, but we do have one or two interesting posts on small Spanish firms other than Lladro, like the thread about the 'Hispania' company.
7. China Chat - Italian, Spanish & Scandinavian Marks
Below are the China Chat archives for Italian, Spanish & Scandinavian Marks.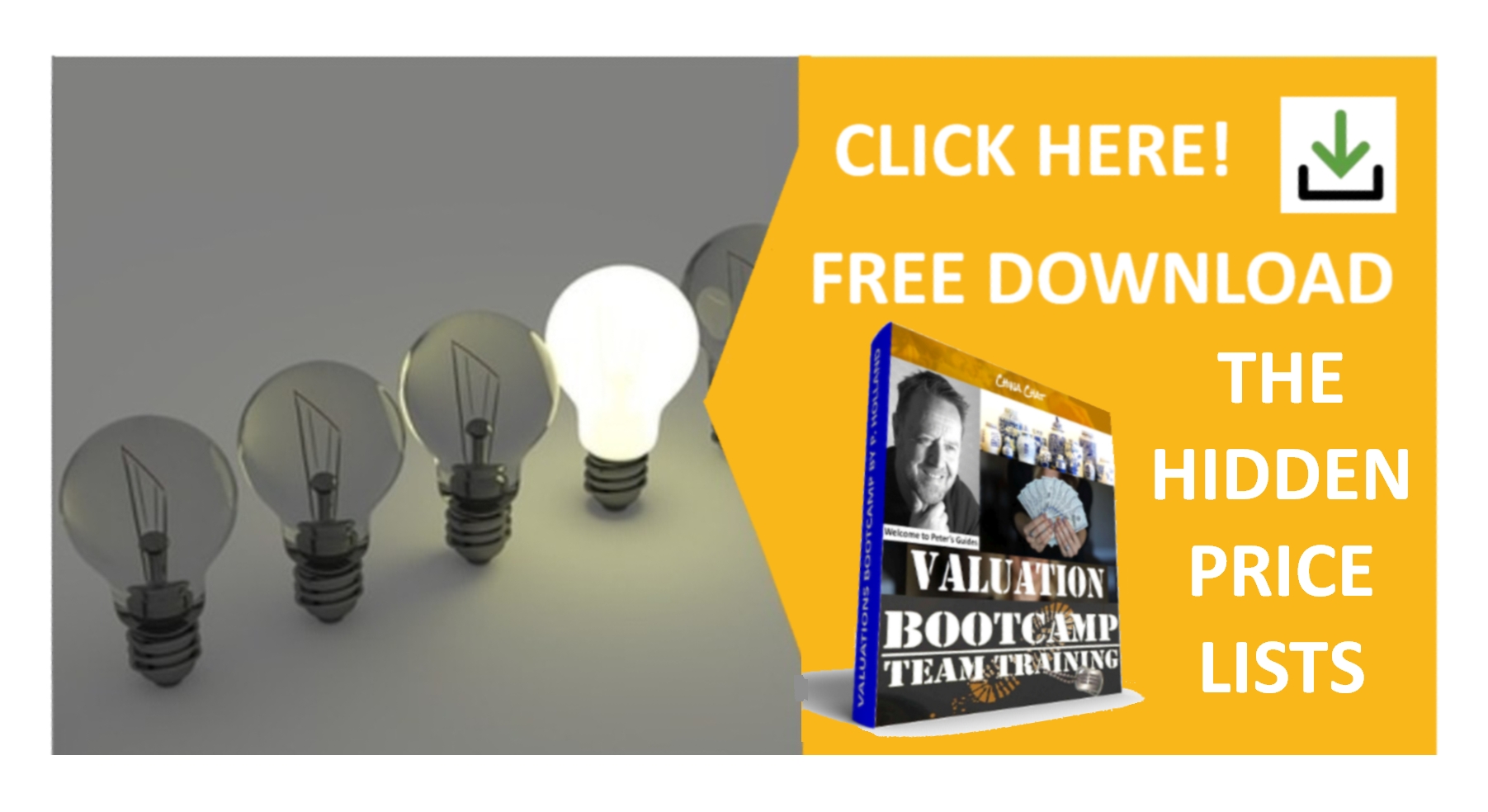 "Your guides are a blessing to us" Cindy Johnson