Rabbit on cabbage leaf from Bassano region of Italy
by Sean
(Fairlawn, OH)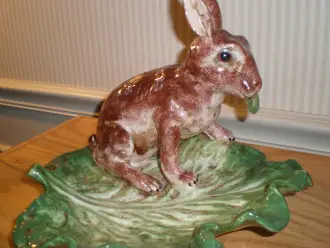 Rabbit on cabbage leaf from Bassano region of Italy
Rabbit on cabbage leaf from Bassano region of Italy:- Hello, Peter. I have a piece of Bassano Italian pottery that was imported by the Meiselman Corporation. The piece is a large cabbage leaf dish measuring 10.5 in. by 11in. Perched on the edge of the dish is a large rabbit sitting at 7 in. tall at the ears. I am aware of the fact that Meiselman preferred to keep the manufacturer of a product under wraps to discourage direct buyers.


However, this particular piece has two stamps on it. One depicts a covered bridge that is a location in Bassano and is generally used to show an item came from that region. The other stamp is a water pitcher with a flower flanked by a letter "c" on each side and crowned with three "stars" on the side of the pitcher. Could this be a manufacturer stamp?
If it is, who is the manufacturer? What, if any value does this piece have? I have been researching Italian pottery marks for a few days now and am unable to place this mark.
This dish was a part of my Grandfather's collection, as such I believe is was produced in the 60's. My original intent was to find a value for it so I could offer it on an
auction website.
Given the difficulty and depth of the research involved I have decided to keep it myself.
Thank you in advance for any and all assistance you may provide in answering these questions.
Sean
===================================
Reply by Peter (admin)
To:- Rabbit on cabbage leaf from Bassano region of Italy
Hi Sean
Let's see if we get a knowledgeable person who happens upon this post. I have looked, but although I have many books and encyclopedias handy, Italian marks are something I have always found difficult to impossible. The industry there was just not set up in the same way as in the big producing countries like UK, Germany or the US.
Apart from Capodimonte (Royal Naples - which had closed down forever by 1800), and then Ginori plus a small handful of other producers, Italian production seems to be very regional, very area specific and not national or international in nature. The one highly recognised make they do have (Capodimonte) is not a brand at all but a very loosely defined style which any maker can put their name to.
So all in all looking up Italian pottery marks is a fairly fruitless pursuit for me, and I am hoping we can get some collectors or other Italian know-how to contribute to your Bassano query.
Peter (admin)
=============================================