Two exquisite porcelain lace sisters with an "N" under five point crown and stamped letter S
by C.
(New England, USA)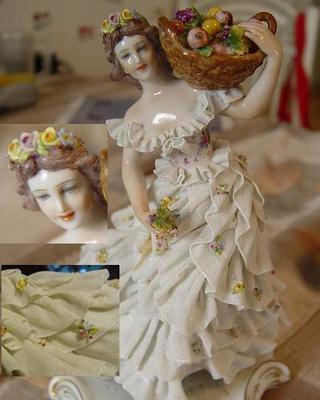 Two exquisite porcelain lace sisters with an
Two exquisite porcelain lace sisters with an "N" under five point crown and stamped letter S:- Hello, I have one of two "sister" figurines given to me by my grandmother who received them from her mother. The other belongs to my sister (photo of the woman in the violet dress) My great grandmother was born in the latter half of the 19th century. She is of Polish and English descent and travelled to Italy (as I have a few paintings from there)and other places in Europe.


I have searched the forum and did find the post of the "N" under the crown here: https://www.google.com/url?q=https://www.figurines-sculpture.com/german-crown-mark-with-n-porcelain-mark-a-j-uffrecht-co-figurine.html&sa=U&ei=tryzT9_hMMK1twfzgY3cDA&ved=0CAsQFjAD&client=internal-uds-cse&usg=AFQjCNHYGAYH-diM7c6ZFLk8AR87iq7vUA.
I then researched Uffrecht, Rudolstadt. The mark most closely resembles the Potschappel mark in that post, but the figurine does not resemble any of the items I could find by them.
I could only find that Dresdon made porcelain lace figurines. But upon additional researching, I did not find any that match the sense of movement in the lace, detail of the painting and quality of the sculpture itself that these pieces have, and of coarse, there is no "Dresden" name on the figurine. They are extremely delicate and I can only keep a single layer paper towel draped over mine, where she sits quietly.
She is about 12" tall. I have included a few photos. My grandmother did not remember where her mother got them and I have reached a dead end. Any help would be greatly appreciated! Thank you!
PS If the photos did not upload I also have them in an album I put on Flickr here: http://www.flickr.com/photos/85962819@N00/sets/72157629755943690/with/7209367664/.
Thank you again!
C.
=====================================
Reply by Peter (admin)
Hi C.
Hmmm. Interesting submission. Many thanks. My first impression was these are very lovely quality German 19th Century Dresden lace style figures, with an N mark, very characteristic of the Thuringian region at that period. Despite the Capodimonte mark, they are not at all Italian, even though your Grandma travelled to Italy - perhaps they were exported to Italy from Germany, thus explaining the export N mark of the German, Thuringian makers (just a guess).
Thuringia was very good at doing the Dresden style, so it is not necessary to see the actual words 'Dresden' to have high quality Dresden lace figures.
The Thuringia area was very rich with the raw materials needed to make fine quality porcelain, so it stands to reason there would spring up an industry which would follow the lead of the cultural centre of Dresden -
the city closest to the originators of European hard-paste Meissen.
Elsewhere on this site, we discuss these makers, but they include, as you say, factories like Potschappel (Carl Thieme), and Rudolstadt(Ernst Bohne Söhne).
When you look closely at this mark you can see the letters SM written into the device of the crown prongs.
The are hundreds of different N marks with crowns, all in homage to the great early period of the Naples factory. Some of these are German, mainly, as I understand it, Thuringian from the late 19th Century. Some are Italian,mainly, as I understand it, from the 1920's onwards.
To me, the figurines marked with a crowned N from Italy are decidedly different from the German 19th century style - at least the ones I have seen. Yours are very nice quality, very German looking. The 20th Century Italian figures are lesser quality to my eye and modelled in a more caricature styling with 20th century faces rather than 19th century faces.
So this leads me onto the vexed question as to why the very authoritative and well researched site www.porcelainmarksandmore.com would categorise this mark in their fakes/repros section.
To me these look well made and genuinely of the late 19th century period, yet this exact SM N crown mark is shown here on the fake mark page:- http://www.porcelainmarksandmore.com/resources/fake_n_repro/00.php (scroll down the page to just over half way down).
The author gives no further explanation or identification of the maker, so this mark remains a complete mystery. The author does explain at the top of the page that the page also shows genuine marks which are often misrepresented, but I have never personally seen this particular mark before, so I don't think it can be one of those.
I believe these pieces look too nicely designed and made to be reproductions or anything other than late 19th century pieces. However, if they are repros from a more modern firm like Sandizell, for example, they are very nicely done, but this firm was only established in 1951, in Post-War Germany. I have yet to see post war examples of Dresden lace ladies which are as nice as these. I have a sense that, with the bombings and carnage of WW2, the skills to make this quality of figure was lost. However, I am open to be contradicted on this, if anyone has evidence to the contrary.
Many thanks for sharing your photos. Very interesting submission.
If anyone can solve this mystery, please post below.
Peter (admin)