Pottery Mark Query - FBS in Circle, Italy, 15-201
by Sara
(Jacksonville, Florida, USA)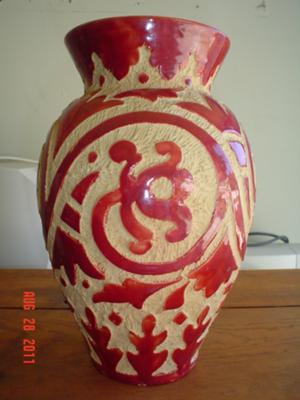 Pottery Mark Query - FBS in Circle, Italy, 15-201
Pottery Mark Query - FBS OR BFS in Circle, Italy, 15-201:- Hi there, hope you can help me out. This vase has been in my family as long as I can remember, I'm 36 now. No one is left to tell me where it is from. All I remember my mother telling me about it, was that the red color was dove's blood. Not sure if this is true or not.


I've done the typical Google search for every combination BFS/Italy/vase/pottery, etc...discovered that BFS might actually be FBS.
I found an Ebay link to a piece of Czech pottery that showed the same symbol, but that was all. I did try your search box up top, one link lead me to a web page of a string of gibberish and the other lead me back here. That was from searching under FBS Italy.
I am curious to know this vase's origins and make so that I make determine it's value. Let me thank you in advance for any assistance you may provide me. I have attached two photo's per your request.
Sara
==========================================
Please contribute to this thread by writing in the comments section below – just scroll down...
HOW I MADE MONEY FROM BITS & BOBS OF OLD CHINA

.....more
The forum Help Elf says:-
Hi Sara
You did well on your searching. We have another thread covering the French version of this mark - which is in a triangle rather than a circle.
You found out that it as also Czech. I looked on a specialist Czech pottery marks site and saw that it was listed on the unknown marks page (http://www.collectorscircle.com/bohemian/Porcelain-2/porcelain/unidentified/marks1.html) and the publisher was asking for information on this company.
I was wondering whether this mark was that of a US distributor or retailer, rather than a maker, because that would explain them sourcing wares from various countries.
Anyhow, this vase looks interesting - the pattern highlighted in dove's blood (nice story - never heard that one before!! - I'll ask a ceramicist expert if it is possible - you never know!) is produced by a technique called scraffito and looks quite nice design quality to my eyes.
Interesting post, thanks. Let's hope we can find some answers for you.
For general free advice on how to research your collection, Peter wrote this page:
value of antiques
.
My vintage and antique china values page
H.E.