Pottery Mark Query - "Italy 1431"
by Jen Benson
(West Mids, UK)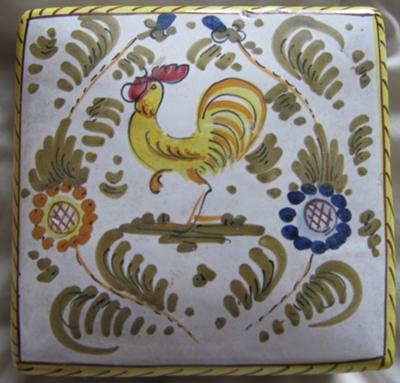 Pottery Mark Query -
Pottery Mark Query - "Italy 1431":- Hi, I have recently inherited some pottery after my mother passed away. Some of the items are clearly marked from Staffordshire potteries, but 1 or 2 of them are marked with a hand written "Italy" and then a number such as 1431 (this is a square lidded trinket box, decorated with a hand painted cockerel and other patterns).


I am having great difficulty finding anything out about these pieces, and would be grateful for any assistance you could give.
I am a complete novice to trying to identify anything, and the value is not so important to me as the heritage, but it would be nice to know!!
I can remember the box in particular being in my mothers bedroom on her dressing table from my early childhood. My parents married in the 1950's and so the items could have been acquired then, or they may have been passed on from an elderly friend.
I have found this site to be really helpful in the past, but there didn't seem to be anything that quite fit the stamp mark I have here, and so I do hope there is someone out there who might be able to give an insight into where these items come from, and what heritage they have.
Jen
Please contribute to this thread by writing in the comments section below – just scroll down...
HOW I MADE MONEY FROM BITS & BOBS OF OLD CHINA

.....more
Pottery Mark Query - "Italy 1431"
Peter (admin) says:-
Hi Jen
Thanks for your submission. I am glad to hear you have found this site a useful tool for research.
Before I talk about the Italian majolica box, just to say about the wares you describe as "clearly marked from Staffordshire potteries" - This might confuse some readers because "Staffordshire Potteries" is a phrase more often than not used as a general term for china makers within the area of Stoke-on-Trent. As is happened, there was a firm who took up the specific name 'Staffordshire Potteries', but this was not until
fairly recent times (1950), and I feel it was a marketing ploy more than anything else, as they were known by other names long before this name was thought up.
The firm in question Keele Street Pottery, founded 1915, buying out Paramount, Winterton Pottery, Thomas Cone, Alma Works, Collingwood Bone China, Conway Pottery, Piccadilly Pottery, and Lawton Pottery in the immediate post war period - became "Staffordshire Potteries Ltd" in 1950) is not to be confused with other longer-standing firms with the word "Staffordshire" in their title. A good example of this would be the famous "Crown Staffordshire" of the Minerva factory.
So your use of the term "Staffordshire Potteries" is not quite a straightforward as it might seem.
Now, about the Italy trinket box. I do not know too much about Italian wares apart from people get confused about what is a factory and what is a style. - e.g. Capodimonte is not a single firm with rights over the name - the word merely describes a general style of wares which doesn't even have to be Italian in origin.
Anyway, another Italian style of wares is majolica - which is a richly coloured and decorated, low fired, often tin-glazed and style of earthenware. I have noticed on my travels in Italy that whatever town or area I visit there is are normally several ceramics 'shops' making and selling their own designs of majolica wares.
These are often beautiful little outlets with a nice sense of Italian style showing very nice merchandise run by lovely local people. The wares seem to marked for the tourist rather than for identification purposes - so they are often just marked with the word 'Italy' with added numbers. Not sure if this is a traditional way of marking or not, but it is certainly different from the English or German way of marking.
If someone knows more of this Italian way of pottery marking, please post below.
Thanks
Peter (admin)
For general free advice on how to research your collection, I wrote this page:
value of antiques
.
My vintage and antique china values page