Cabinet Tea Set with no pottery mark apart from "FOREIGN"
by Joanna
(Peterborough)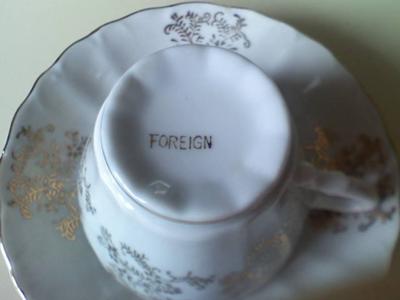 Cabinet Tea Set with no pottery mark apart from
Cabinet Tea Set with no pottery mark apart from "FOREIGN":- Hi to everyone at this fabulous website, please help...... My mum gave me the coffee set that my dad had bought her at the end of the sixties beginning of the seventies, and it spent years and years being lovingly cared for in my mums glass cabinet (the same glass cabinet that i think everyone's mum had). My mum and dad divorced many years ago (28)and then it spent it's life in my mums garage, during a clear out she asked me if i would like to have it, i took from my mum but i thought i could maybe find out a bit more about it.


I have the coffee pot and six small cups and six small saucers my mum does not think that she had the sugar bowl or milk jug.
My mum can't remember where my dad bought it from and we can't even guarantee that it was in this country as my Dad was a long distance lorry driver and travelled everywhere from Germany and Poland to Iraq and Saudi Arabia.
I saw the other post from the guy with the Foreign mark but my coffee set is so different to his that i was intrigued.
I would be extremely grateful if you could shed any light on where this may have come from, i am not sure if it is bone china, porcelain or even if the gold decoration is actually gold.
It would be wonderful to find out if it was actually worth anything then i could treat my mum, as my dad was a total pig to her for many years it would be great to think that he could cause her a small bit of happiness...
Please help..
many thanks
Joanna
Please contribute to this thread by writing in the comments section below – just scroll down...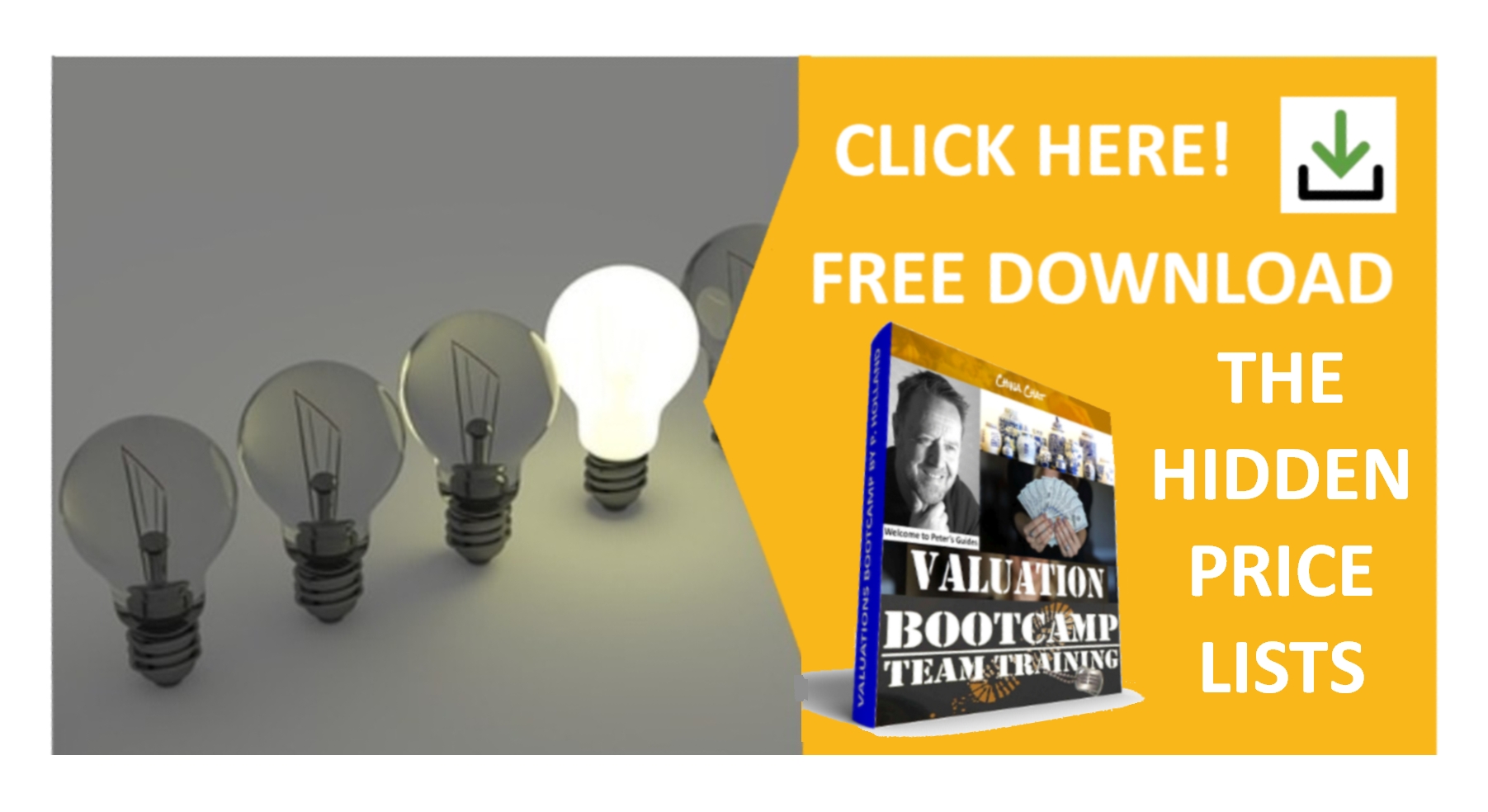 "Your guides are a blessing to us" Cindy Johnson
Peter (admin) says:-
Hi Joanne
Thanks for your complement about the website and your touching story.
I don't think these sets are worth all that much - perhaps the cost of a nice meal out, but I am no expert on values, and you really need an expert assessment. Put it this way, this is a nice set, but not Meissen.
However, I think you have maybe helped with a clue to another long-standing query (here
Gold Crown Pottery Mark with no other letters or devices
).
The items are not the same pattern nor do they have the same mark, but somehow they look similar in style and make. The clue is the sheen of the glaze which has a kind of lustre and the branch decoration details. Below is a detail from that page compared with this page: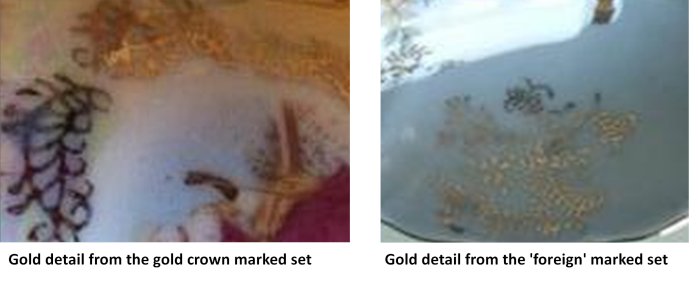 On that
page
, I go on to conclude that these sets are likely from a German maker under the name of the Gräfenthal group operating behind the Iron Curtain, and the date is after 1972. Go to the page for further explanation.
The set shown on that thread have a single gold crown mark and nothing else to give any clues as to their origins. Significantly, Somer, the posts author, shares with us a report written by an expert who says this is German or Austrian cabinet ware.
I believe your set to be from the same maker from the
same 'cold war' period - likely made in the 1970's.
So the question is - why does the mark 'foreign' appear on this set, but a different gold crown mark on similar produce from the same maker?
Here's the explanation:
A 'foreign' pottery mark on a ceramic item, unfortunately gives little, if any, indication of the country of origin or date of manufacture, despite what other online sources may say.
So it's a case of narrowing down the various possibilities of what maker might have used that type of marking and then taking a careful look at the make, quality and decoration style of the peice in question and then hazzarding a guess of the origin.
Initially, in the late 19th Century, country of origin laws (aka C.O.O.L.) were introduced in both the UK and US, as a response to the rise and strength, in particular, of German export industrialisation and protectionism. In the US, the act was called the 1890 The McKinley Tariff Bill, and in the UK it was the 1897 British Merchandise Marks Act.
Breifly, at first, before the US act was revised, imported goods were simply marked 'foreign' in some cases, but after that, ceramic items should, in theory, have had the country of origin clearly marked. However, this is not an accurate dating mechanism for the use of the word foreign on china crockery, because the foreign marking was used fairly extensively in the following types of settings:
- During the cold war (post WW2), the USSR (including countries within the Soviet block like East Germany) were reported to have exported ceramic goods to the USA & UK using the word 'foreign'.
- German factories from the early to mid 20th century are also said to have used the foreign stamp for export to countries like Hungary or Bulgaria. Other sources suggest the contrary, that during this period, if the figurines were exported from Germany to the UK, they had the 'foreign' mark, but the "GERMANY" stamp was used for elsewhere.
- The Chikaramachi branch of Japanese makers Noritake (and possibly other factories) are reported by Gothborg.com to have used a 'foreign' pottery mark from about 1928 to 1946 for porcelain intended for the UK market, instead of the usual 'Made In Japan' or other more usual marks.
- The interchange of goods between the USA and UK may have seen each others export goods marked as 'foreign' during the early to mid 20th century, rather than having the full country of origin.
So, we have to be careful of ascribing a fixed dating chronology to the 'foreign' backstamp.
In your case, what is my guess as to origin?
I believe these may well be, as the expert stated, a German cabinet set, likely from USSR/East Germany production (specifically likely the Grafenthal group) which was exported to one of the European countries your father visited, and so having the 'foreign' backtamp rather than the gold crown mark as seen on items exported to the UK or US.
This would explain why some of these types of very similar sets have differing pottery marks. Simply, they were made for different destination markets which had different C.O.O.L. labeling requirement.
Hopefully, that's of some help, I liked your submission very much, so thanks.
Best regards
Peter (admin)
For general free advice on how to research your collection, I wrote these pages:
My vintage and antique china values page