Child's tea set - W.K.C.co ELO pottery mark
by Marni
(USA)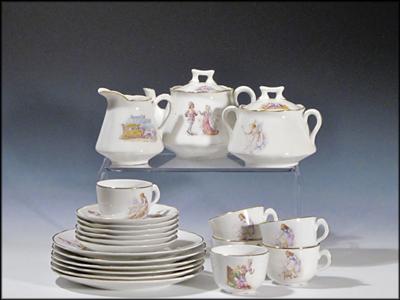 W.K.C.co ELO pottery mark
When I purchased this child's tea set I was told it was American. I would have thought German, but W.K.C.co ELO pottery mark:- I can't seem to ID the mark. The set consists of a covered tea pot, covered sugar, creamer, six plates, six saucers, five cups with handles, and one handleless cup.


All the pieces are covered with scenes from the Cinderella fairytale.
Thanks in advance.
MJB
Please contribute to this thread by writing in the comments section below – just scroll down...
HOW I MADE MONEY FROM BITS & BOBS OF OLD CHINA

.....more
W.K.C.co ELO pottery mark
The forum Help Elf says:-
Marni
Interesting one this. A couple of places online list this mark, but it is only associated with miniature tea sets for children. And nobody has the faintest idea of who this company is.
Myself I would bet good money this set is American, not German because the ELO part surely must stand for East Liverpool Ohio. It would make sense for a domestic maker to make for the domestic toy market. I believe these set are made by one of the older established makers in ELO and the W.K.C.co is possibly more to do with the toy distributor or retail label than the East Liverpool contract manufacturer who made the sets.
To get an idea of which of the ELO firms which might have made these sets, have a browse through this page:-
http://www.tealeafclub.com/HTMLobj-7474/amerbook13-25.pdf
For general free advice on how to research your collection, Peter wrote this page:
value of antiques
.
H.E.