China Mark Query - Wells with a peacock
by Joanne Meshew
(Lancaster County, PA)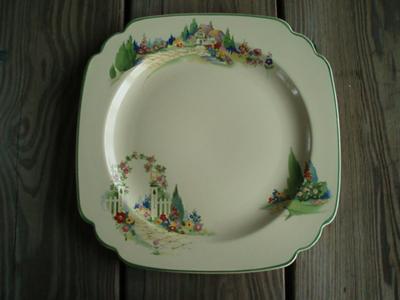 China Mark Query - Wells with a peacock
China Mark Query - Wells with a peacock:- About 20 years ago I bought a set of china at an estate auction (not sure what material) for about $600. There are well over 100 pieces. They have a lovely English country/garden pattern on them. I have tried internet research, including this site to no avail.


Any help identifying would be greatly appreciated.
Thank you!
(Sorry the markings on back aren't more clear - my photography skills are not great.)
Joanne
============================================
Please contribute to this thread by writing in the comments section below – just scroll down...
HOW I MADE MONEY FROM BITS & BOBS OF OLD CHINA

.....more
China Mark Query - Wells with a peacock
The forum Help Elf says:-
The Peacock Wells label is, I believe, a brand of famous American maker Homer Laughlin, so it's interesting for you to suggest it is an 'English country garden' look. I make you right - let's hope someone else can add to this by telling us more about this set.
As for values, traditional crockery has not been doing well lately as it is somewhat passée and out of fashion, as well as the market being generally depressed. So not a good time to sell or have it valued.
However, on the plus side, Homer Laughlin is a very high quality and collectible maker, especially with its Fiesta collection, so this might redress the balance in your favor slightly - as collectible wares are the ones that retain their values.
Actual valuations aren't done in this public section as this is the realm of experts. For general free advice on how to research the value of your collection, Peter wrote this page:
value of antiques
.
H.E.