Chinese Porcelain Vase from the 1930's
by Ronald Sparks, with a square red seal mark stamp with oriental writing inside it
(Halifax, Nova Scotia, Canada)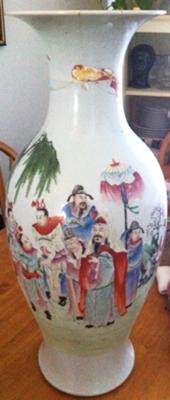 Chinese Porcelain Vase from the 1930's with a square red seal mark stamp with oriental writing inside it
Chinese Porcelain Vase from the 1930's with a square red seal mark stamp with oriental writing inside it:- I picked up this vase some 25 years ago. It was broken at the top and i took it upon myself to try to fix it. I know it could be worth something some day and now is the time to find out how much this thing could be worth. I paid $30.00 for it at a Chinese market in Toronto Canada.


I was told it was from the 1930's and it has a square red seal mark stamp with oriental writing inside it.
Please tell me something about this vase.
Thanks a lot.
Truly yours
Ronald Sparks
==============================================
Please contribute to this thread by writing in the comments section below – just scroll down...
HOW I MADE MONEY FROM BITS & BOBS OF OLD CHINA

.....more
Chinese Porcelain Vase from the 1930's with a square red seal mark stamp with oriental writing inside it
Hi Ronald
===========================
UPDATE
===========================
When Ronald first wrote in with this query a couple of years ago, I really knew zero about Chinese wares.
The discussion in the comments section below reflects that time and remains unedited.
I know a bit more now because I have looked at the hundreds of queries going into my
expert team of appraisers
which I organise on behalf of our site visitors.
I have also bought a few more books and have been studying and learning as much as I can.
I am still no expert, but I do understand a few of the basic principles. One of those is knowing how to read these red seal marks (when they are the most commonplace types like the ones made for export to the West - I still can't read anything complex or unusual).
The second thing is the knowledge that although Chinese markings say one thing on the backstamp, most of them are not accurate in what they are saying. The red seal stamp has writing which is a 'homage' to earlier times.
I am told that to put fake information in the underside of a vase is not, apparently forgery, it is regarded as 'homage' in Eastern culture and perfectly legitimate. My reaction to that is "Really? Pull the other one - they saw you coming!" - but then maybe this is too cynical a view from a non-expert who doesn't understand the culture.
So the first job is to read what the ancient style script says within the red square mark.
I am generalising but most marks I have seen go through my service say the same thing. They say either "Great Qing Qianlong Period Make" (in Chinese "Da Qing Qianlong Nian Zhi") or just "Qianlong Period Make" (in Chinese "Qianlong Nian Zhi").
The Qing part refers to the Qing Dynasty (1644 to 1912), the
word 'Qianlong' refers to the name of the 4th emperor (1735 - 1796).
So how to read the Chinese calligraphy?
It seems hard at first, but actually, it's not that hard.....
Look at Ronald's photo above.
Think of it as 2 columns (split the square in half with an imaginary line going down the middle).
Start on the right column at the top and work down. These blocks are saying the emperor's name "Qianlong".
Go to the top of the left half. Working down, these blocks say "Period Make" (or Nian Zhi in Chinese).
These red seal marks often also say the words "Great Qing" ("Da Qing") first. In which case there would be a third block of writing to the right and you would effectively be splitting the square into 3 columns instead of 2.
The Chinese word "Da" meaning "great" is easy to spot as it looks like the four prongs of a garden fork - always placed on the top right - they start on the right and work downwards (rather than our 'left-and-across' method).
You can see an example of the mark which includes the "Da Qing" column in another thread on this site (just go to the top right of this page and put in the word "qing" into the search box).
So if you read the thread below, you will see that Ronald was originally told this piece was made in the 1930's. Then he was told the mark said 1735 - 1796. Ron got excited!
So the question is - from the point of view of the 'non-expert' but very common sense and practical stance of this website - how do you tell if a vase is actually from the the Qianlong period, or whether it is a 20th century made-for-export fake (sorry I mean 'homage')?
I am here to tell you (sorry) the likelihood is if you are in the West and have in your possession a vase with this type of red seal stamp, you likely have a 20th century item, not a hundreds of years old one.
This is your starting point - and should be your default presumption.
That said, your 20th century one vase or plate still be very attractive and have a fair decorative value, not to be sniffed at, so don't chuck it away please.
And.... bear in mind, I have had several pieces come through the expert service which I thought, in my cynical way, would be just 20th century 'homage' but turned out to be imperial kiln quality and worth four figure sums.
So who knows what treasure you are sitting on and what treasure our Ron has?
===========================
end update
Best regards
Peter (admin)
p.s. The following page is a 'must see' if you are researching fine china - for value and identification:-
Researching the identity and value of antique and vintage fine china
.