Figurine query - Pottery mark looks like pound sign
by Jim
(Florida)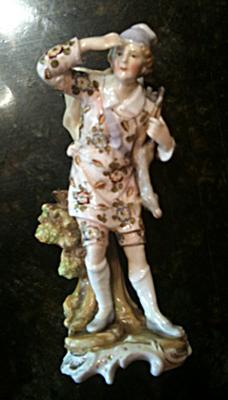 Figurine query - Pottery mark looks like pound sign
Figurine query - Pottery mark looks like pound sign:- This is a figure that appears to be someone on a journey, possibly French. Attached are two photos. One of the figure itself and the other of the mark on the bottom. Sorry, they're cell phone photos. I inherited this figure in my Mother's estate so I'm afraid that I don't know much of the story except to say that I think it goes back to at least my grandmother. There's not much else to say. I don't know where or how or when it was originally acquired. The figure is about 5 inches tall and finely detailed. It is not part of a collection as there is only this one piece. I've done a fair amount of searching but have not been able to identify the mark on the bottom. Please forgive any stupid questions as I'm new to this.


Jim
=======================================
Please contribute to this thread by writing in the comments section below – just scroll down...
HOW I MADE MONEY FROM BITS & BOBS OF OLD CHINA

.....more
Figurine query - Pottery mark looks like pound sign
Hi Jim
Many thanks for this interesting query - it gives us a chance to research the Volkstedt (George Macheleid) factory of Volkstedt/Rudolstadt (Rudolstadt is the seat of government of the Principality of Schvvazbiirg-Rudolstadt in the region of Thuringia in Eastern Germany.
There are several china factories operating out of Volkstedt, but the one originally using
your mark is the one founded in 1760 by George Macheleid.
This is known as the 'hayforks' mark and comes in several variations and was used from as early as 1760. Like many early European factories, there seem to have been later factories appropriating these early marks and this happened with these Macheleid in the late 19th century.
Another well known Volkstedt maker is the Volksted Porcelain Factory of Richard Eckert & Co. which operated from 1894 to 1918 (formerly Triebner Ens & Eckert 1877 to 1894). Eckert also used the same hayfork mark as yours - I am not sure of the exact connection between the two companies - this needs more research. I think your mark may be from this later period.
The various Rudolstadt factories have won many gold medals during international shows and are said to match Meissen quality at times.
For an idea of how you can get a ball park idea of the value of any item you might own, go to my
Be Your own Antiques Roadshow Expert
article. It's fun to try it out.
Also, if you have a piece with this pottery mark let us know what you have - it all adds to the knowledge base.
Peter (admin)
p.s. The following page is a 'must see' if you are researching fine china - for value and identification:-
Researching the identity and value of antique and vintage fine china
Please post comments below which you think might be helpful……