Germany China Mark Query - Crown over O and X
by Susan & Bill
(Cornelius, North Carolina USA)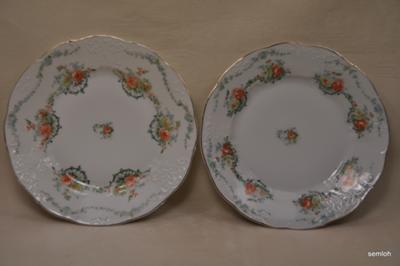 Germany China Mark Query - Crown over O and X
Germany China Mark Query - Crown over O and X:- We picked up these 6 plates at an auction in January thinking we could identify the mark as we have been able to do with many others. However, we have hit a brick wall--and are very frustrated! We would appreciate knowing what company used this mark and any history of the company. If you know the pattern, that information would be greatly appreciated. The plates are 8 5/8 inches in diameter. The orange rose pattern is so beautiful and orange is not a common color for dinnerware. The plates are heavily embossed with the pattern repeating 3 times and the scalloped rim is gold trimmed. We thought all 6 plates were the same. However, we discovered differently when washing and drying them. Two have a smaller pattern that repeats 4 times while 4 have a larger pattern that repeats 3 times. Greens, blues, and oranges are the prominent colors on the pure white porcelain.


The plates say Germany on the back and each has a number and letter written separately in gold. The one pictured says L 69 while other numbers are 71, 10, etc. The backstamp is a brown and has a simple crown at the top with the word Germany in an arch at the bottom. We do not know how to describe what is between those two.
Thanks for any assistance.
Susan & Bill
===========================================
Germany China Mark Query - Crown over O and X
Hi Susan & Bill
This one is definitely classifiable as unclassified!
Nothing in my books, and is impossible to describe in keywords, making searching online impossible.
We have, however, had miracles happen before on this site where a knowledgeable contributor pitches in with a solution (check out the comments section below for replies).
One idea, if you have time, is to go to the German marks specialist site www.porcelainmarksandmore.com and look through every page of entries until you find it. If it is not on this site, it is likely not online at all. Unfortunately, the publisher uses geographical navigation, so to find a graphic mark without any other clue is not possible with his in house search function.
Peter (admin)
p.s. The following page is a 'must see' if you are researching fine china - for value and identification:-
Researching the identity and value of antique and vintage fine china
.
Please post comments below which you think might be helpful……