Handpainted jardinière with black HUNGARY pottery mark
by Karen
(Vermont, USA)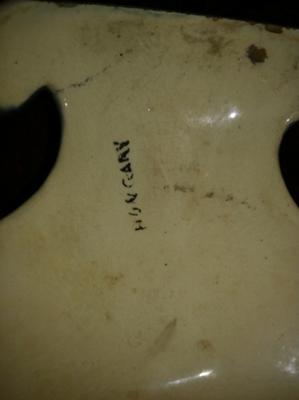 Handpainted jardinière with black HUNGARY pottery mark
Handpainted jardinière with black HUNGARY pottery mark:- This item, which we affectionately call the "marvelous monstrosity" came down through the generations and is attributed to coming from a mother-in-law of German origin who came to the US in the mid 1850s and died in 1914. Her daughter married my grandmother's eldest brother, and somehow we ended up with this lovely item that, after research, I think might be considered a reticulated footed jardinière. It's a massive piece, 24" or so in width.


The time frame of the story told about how it came into the family is totally inconsistent with a vague story of the piece being smuggled out ahead of the Nazis, which my grandmother used to tell.
There do not appear to be any incised or stamped marks on the piece. The word "HUNGARY" looks to be handpainted in black. I haven't been able to find anything with a similar marking in my research and am not even sure whether Hungary was being used as the name of the country when the McKinley Tariff Bill was passed. There are also the remains of a printed sticker that probably had the maker's name. The remaining corner includes the identifiers "fac No" and "Des No", but the handwritten numbers that follow no longer exist.
Can anyone help in identifying the era, maker, and any other details about this piece?
Thanks for any information anyone can provide.
Karen
============================================