HL mark on white ceramic contemporary coffee mug
by Amy Sewell
( MS Gulf Coast)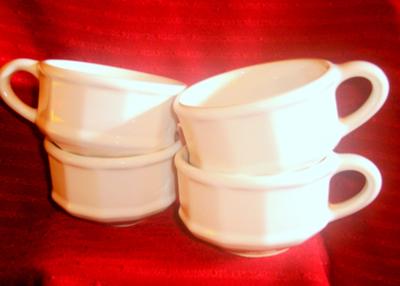 HL mark on white ceramic contemporary coffee mug
HL mark on white ceramic contemporary coffee mug:- I have a set of four mugs purchased at a thrift store. I can make out the "HL" at the top of the stamp on bottom, but the rest of the mark is filled with glaze and I cannot read it.


I have attached a pretty good photo of the bottom of the mug and a profile view.
I would appreciate any help with this as I've searched everywhere else with no luck!
Amy Sewell
======================================
Please contribute to this thread by writing in the comments section below – just scroll down...
HOW I MADE MONEY FROM BITS & BOBS OF OLD CHINA

.....more
========================
UPDATE
You will see from the comments section below that Amy has cleverly answered her own query and has been kind enough to come back to us to tell us what she found out.
Amy says this is a Pfalzgraff mark (I then researched and found out this should be spelt "Pfaltzgraff" - note the addition of a T in the middle).
Amy says the pattern is "Heritage". We have other submissions on Pfaltzgraff, so just use the search engine, top right of this page to find them. The normal marks are the keystone and the castle.
See a range of marks on this specialist site:-
www.angelfire.com/pa2/pfaltz0folkart/history.htm
At first, because of the name, to me this company sounded as if it should be Germanic, so I looked in the appropriate section of my mark book and fond nothing. Turns out this is a
200 year old American company was still making until 2005 and were the oldest American pottery firm in constant production.
Like Worcester in England (the oldest English company in constant production) who closed in 2009, the name was bought out. So Pfaltzgraff are still selling today as a brand name, and celebrated their 200 years, but for me, the question is - does that make it Pfaltzgraff as we know it?
Founded in 1811 (that's an older history than most English Staffordshire makers), it went through various phases of ranges.
From stoneware crocks and jugs to yelloware. Then in the 20th century ware decorated by sponge
The 1930's saw them go into art pottery like in the grand tradtion of American art pottery (McCoy, Redwing, Van Briggle etc etc) was
At this time they also designed kitchenware
But now the thing Pfaltzgraff Pottery is best known for perhaps is their china tableware and ovenware.
"Gourmet" range was introduced after the war in the optimistic and picture book 1950's styling and became quite a big thing
They also did a character giftware "Muggsy".
"Village" was a folk-art flower collection.
Other more recent designs have been "Folk Art" "Ceramex" and "Yorktowne".
Not sure when these ranges were released:-
COUNTRY CASUAL, FRIENDS, TEA ROSE, AMERICA
Any idea, let us know...
Peter (Admin)
p.s. The following page is a 'must see' if you are researching fine china - for value and identification:-
Researching the identity and value of antique and vintage fine china
.
Please post comments below which you think might be helpful……