Identify Pottery/Porcelain Mark -Two miniature vases - Dresden or not ?
by Susan Navarre
(Ortonville,Michigan,USA)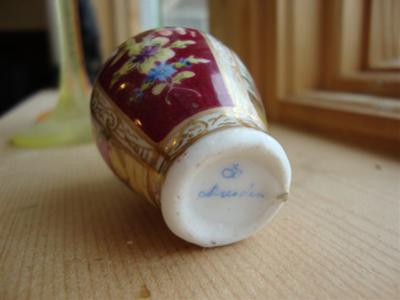 Identify Pottery/Porcelain Mark -Two miniature vases - Dresden or not ?
Identify Pottery/Porcelain Mark -Two miniature vases - Dresden or not ?:- I purchased two beautiful miniature vases from a local thrift store. I used my magnifying glass at home & was shocked to see 'Dresden' on one & the other I cannot make out. If anyone can give me information or ideas on what the marks really are and perhaps a value, I would really appreciate it.


These vases are 2" tall.
Thank you and look forward to hearing your
remarks,
Susan
Michigan
Please contribute to this thread by writing in the comments section below – just scroll down...
HOW I MADE MONEY FROM BITS & BOBS OF OLD CHINA

.....more
Identify Pottery/Porcelain Mark -Two miniature vases - Dresden or not ?
Hi Susan
Good purchase and good sleuthing!
Many thanks, hope you are finding the site generally a useful reference point. Don't forget to use the in-search box located on every page to find your information. There are over 1500 pages of information freely accessible on this site.
I regularly get items of this type through my
expert referral service
, so although I am not myself an expert (far from it) I think I can safely say these are genuinely Dresden items - this design known as 'quatrefoils'.
I can even begin to use some fancy words to describe one of them, so the expertise is obviously rubbing off somewhat (glory by association!). You have a nice Dresden porcelain quatrefoil miniature vase with hand-painted section boxes with Watteau-like scenes.
The other vase, I can't even begin to get to grips with how the experts would describe it. How about "floral gilt swag enamelling with mauve diaper-ground contrast accent"? Phew, that's a mouthful!
Anyway, once you understand the difference between Meissen and Dresden (see my
free online antiques guide.
), there is no real definitive Dresden mark because the word "Dresden" is used in this context to define the collection of independent decorating (or finishing) studios in the City of Dresden itself. These small individual studios were taking advantage of the pioneering work of Europe's first and foremost hard porcelain factory Meissen (located about 10 miles away from Dresden). They were, in some ways, the equivalent of the leather bag sellers in the bazaars of Baghdad.
So if you ignore the fact that the wares of Meissen were for years referred to as 'Dresden' by the uninitiated, there is no actual single factory of Dresden. There were lots of smaller units riding the Rococo new wave, selling their wares, making a living, doing their best.
So porcelain has been decorated by various units in Dresden since the early C19th influenced by
the nearby Royal factory at Meissen. Your pieces could have been made by a number of factories or decorating studios who were working at the end of the C19th and into the C20th and used these marks. The quatrefoil vase has a typical studio marking. The floral guilt vase has a mark where a decorator has simply covered the original porcelain factory backstamp with a splurge of gold enamel and then written their own production reference number over the top. Don't ask me what that number means apart from their marking was not the neatest piece of work - suggesting these were being churned out a quite a lick at the lowest possible factory price.
Although accurate records are hard to come by due to the destruction reaped in the WW2 bombing raids, what remains suggests there were perhaps even in excess of 200 painting shops in Dresden between the middle of the 19th and 20th Centuries. These shops did not make the porcelain as this is a very costly process and fraught with technical difficulties needing many high artisan skills to get it just right, they merely bought in the whiteware and decorated.
This commercial artistic movement, so to speak, became known as the Dresden style (influenced both by Meissen and Vienna) and became closely associated with the crown porcelain mark in blue. A crown of this distinctive style was first registered in 1883 by four decorators - Adolph Hamann, Richard Klemm, P Donath & Co and Oswald Lorenz.
Then, other decorators came along and followed suit, jumping on the band wagon and sometimes getting into law suits for copying various registered trade marks. In particular Helena Wolfsohn got into hot water with the highly protective and litigious Meissen factory and was made to change her copycat AR mark. This does not mean her work is useless fakery - it is well respected and can fetch high prices. Carl Thieme, Ambrosius Lamm and Franziska Hirsch are notable examples of the later decorators that followed on the first flush of this 'Rococo' revival movement.
So getting onto the value of these two items, I would never try to guess a price here in this forum, because it would be wrong to do so - and not being an expert, I might easily get it wrong. However, if these went for more than $50 or under $20 at auction, I would be surprised.
Best regards
Peter (admin)
p.s. The following page is a 'must see' if you are researching fine china - for value and identification:-
Researching the identity and value of antique and vintage fine china
.
Please post comments below which you think might be helpful……