IK Within a Circle Mark on Art Pottery Drip Mugs
by J.Robson Koenig
(Winthrop Harbor, IL, USA)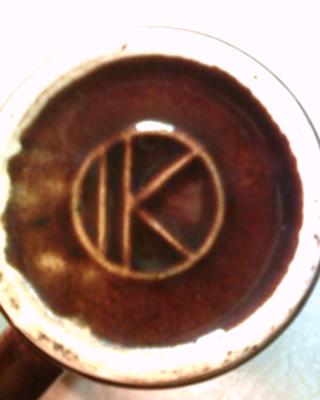 IK Within a Circle Mark on Art Pottery Drip Mugs
IK Within a Circle Mark on Art Pottery Drip Mugs:- Found a set of brown drip pottery mugs. I cannot identify them. HELP, please! I have done research and research and research to no avail. I do not think they are anything too special, but when I buy something, I like to know about the items. It's really just a hobby of mine. I like thrift-storing and antiquing; I have even been known to do a little dumpster diving. These are your average stoneware brown drip pottery with a plain handle.


The rim's of the mugs are a very light beige color and get darker as the glaze "drips." They are pretty lightweight, so I do not think they are "earthenware" or "stoneware." They seem to be made of just ordinary pottery clay, but I am no expert…that is why I am here. I am guessing they were made sometime during the seventies or eighties, or they could be older. To tell the truth, I had never seen the marking before and they were cheap, so I bought them.
Plus, my last name starts with a "K." That added to the attraction of the mugs. At first glance, I thought they were either Hull or McCoy. When I turned them over, I was a little puzzled and pleased. I do like them, even though they are not Hull, McCoy, or my favorite: Van Briggle
So, here you go…these mystery mugs…
J.Robson Koenig
Please contribute to this thread by writing in the comments section below – just scroll down...
HOW I MADE MONEY FROM BITS & BOBS OF OLD CHINA

.....more
Peter (admin) says:-
Hi
I don't know this mark nor is it shown in my books. Someone out there knows this mark, so let's hope they find us. The pottery mark looks as if it should be familiar.
For general free advice on how to research your collection, I wrote these pages:
My vintage and antique china values page
value of antiques
.
Best regards
Peter (admin)