Ilmenau Slightly Different Porcelain Mark than I have seen before
by Richard
(Pennsylvania)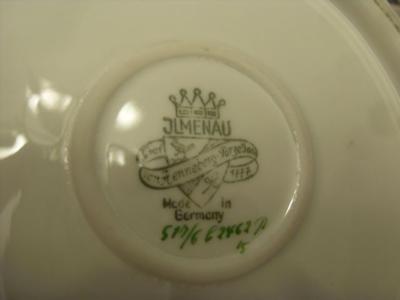 Ilmenau Slightly Different Porcelain Mark than I have seen before
Ilmenau Slightly Different Porcelain Mark than I have seen before:- This is an Ilmenau plate, with a mark that I could find exactly duplicated in my references (which are, ahem, basically from using search engines).


The shortened staff of the "M" is somewhat atypical over the history of the line, but similar marks were used after 1934, and maybe as late as 1949. I have found marks with no Country of Origin, and marks that say "Germany" underneath, but none others that say "Made in Germany" as this one does.
I don't think this pattern is particularly gorgeous, and in fact, it is similar (but honestly, better than) some very pedestrian Ilmenau plates of later vintage.
What sets this plate apart are the handwritten numbers underneath. What does this mean "517/6 P7462P 15". I'm not even sure I got all of those numbers and letters right.
What does that handwriting mean? What clues does it give, and why is it so hard to find information about such handwritten things on the backs of plates?
I do like the, not uniqueness, but un-usualness of these handwritten parts of pottery marks. It gives one the sense of more personal craftsmanship.
I also wonder whether this was a plate that was supposed to be used, or just for decoration, since there seems to be quite a bit of gold on the front that does not show a lot of wear from use.
This is not my favorite plate all things considered, and you know it is not a great sign when the mark is more intriguing that the front design.
Richard
Please contribute to this thread by writing in the comments section below – just scroll down...
HOW I MADE MONEY FROM BITS & BOBS OF OLD CHINA

.....more
Peter (admin) says:-
Dear Richard
Many thanks for a very very well written and thought provoking contribution.
You made several points. Let me
deal with the one I think you feel is the most important to you - that of the hand written pottery markings. I have been in and around porcelain factories most of my working life and these hand written marks are often to do with internal production considerations, and not so much for identification. They can be to do with the decorators/painters marks, and also technical details of production, so that the factory knows exactly how to reproduce the item if stockists want to reorder exactly the same items in the same color etc etc. With a big busy factory producing thousands upon thousands of variants over hundreds of different shapes and variations, imagine how enormous the production managers cataloguing would have to be unless he made notes on the base mark itself.
Now, about the mark itself. This is a standard mark using the device of the Henneberg coat of arms, as you say, used from 1934 (according to the authority German ceramics website
porcelainmarksandmore.com
it was registered on October 25th 1934). There were several variations of this pottery mark and if you look at the page in the link above, you will see that the there are versions which say 'made in Germany', but these have the full stroke of the 'M' not the truncated version like in many of the others versions. However, I am sure there were more variations than are shown online or an any reference book.
The later wares also use this same mark, but they tend to have the 'dishwasher safe' or GDR additions.
As for the attractiveness of the wares, I think this is a very splendid pattern from a very interesting maker in a unique period if time, so very worth collecting.
Hope this helps in your research.
Peter (admin)
For general free advice on how to research your collection, I wrote these pages:
My vintage and antique china values page
value of antiques
.