Is 'JM' Johann Maresch OR John Meir Pottery Mark? Backstamp Photo
by Roger Carlson
(Sweden)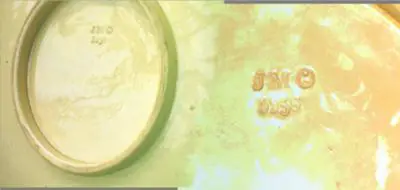 Is 'JM' Johann Maresch OR John Meir Pottery Mark? Backstamp Photo
Is 'JM' Johann Maresch OR John Meir Pottery Mark?:- Hello! I have a decorative plate very similar to the one shown on your site.


Above is a photo of the mark, which was very well described by "Denise", and of course I have sent a picture of the front side of the plate too.
My guess is her description of the material is also good. I'm not much able to describe it since I'm Swedish and also since I just recently got interested in ceramic art beauties.
Denise wrote:-
"Very detailed.
The back is impressed J.M.
The numbers 5139
Below it also a small circle with two 3/4 circles located at the top and bottom inside the outer circle."
I would give the same description except for the number which is 5256 on my plate.
Beside John Meir J.M. initials, I have also found a J.M. for a German - Joh Maresch, under this next link.
J M Germany Pottery Marks on OldandSold.com
Can you offer any help or give any comments on my plate?
Best wishes
Roger
=====================================
Reply from Peter (admin) below - just scroll down
HOW I MADE MONEY FROM BITS & BOBS OF OLD CHINA

.....more
Reply by Peter (admin)
To: Is 'JM' Johann Maresch OR John Meir Pottery Mark Query
Roger, may I say you are a genius!
I love it when things like this happen on this site!
You have just solved yours and Denise's query (and probably many other visitors queries) in one go.
You have also shed light on something we needed to know about about on this site - an important maker who is becoming very collectible and expensive. The mark is definitely that of Bohemian potter Johann Maresch, not Staffordshire potter John Meir.
So my sincere thanks to you and for your eye for detail (the JM mark was buried amongst 19 other pages of jumbled marks on the 'Germany' section of the OldandSold.com website - (Aussig Joh Maresch) - such is their strange, rambling site.
It was there for me and Denise to find, but neither of us did!
That's what so fun about this site; we all learn together and share information. None of us are experts, but we can pool our little bits of individual knowledge together to become a powerful whole!
I went to the link you mentioned above and then began to research this mystery JM maker using the techniques I describe on my page called
how to value antique and fine china ceramics
.
It turns out that Johann Maresch is an increasingly collected maker. This JM emanated from a town called Aussig on the banks of the river Elbe in
1841 in a place that was then Eastern Bohemia, later becoming part of Germany. The town is now called Ústí nad Labemunstarred being situated in the Czech Republic, very near the border with Germany and not far from Dresden itself.
The wall plaques are an important part of their wide offering of high quality wares and can fetch good prices on ebay. At the time of writing there is a buy-it-now plaque online selling for US $279.00
The sculptural artwork from this factory is frankly stunning quality. I am now a BIG fan of these wares.
For example, I saw for sale for $1,025 USD a Terracotta Sculpture of a 'Cherub' signed Maresch C.1863-70 valued at $1,025 USD.
The RubyLane website describes this piece very well:
"The young curly headed cherub is seated on a large rock with rocks and floral at the round base,intently studying an animal picture book with a pig pictured on one page and dog on the other. A raised "real" green lizard has crept onto one of the pages. A curved pine cone of sorts in one of his hands,his flowing robe draped across both shoulders and back. Very detailed sculpture in every aspect."
I saw some very fine examples of high quality sculptural ceramics in their ranges.
The odd thing is that they went onto become very famous for something which, here in the UK, we do not associate with high art (maybe you do in Sweden as you gave us 'The Smurfs') - the ubiquitous GARDEN GNOME!
Here is a sweet little video on the Johann Maresch factory courtesy of a quirky site dedicated to this Bohemian maker called
The World of Johann Maresch
:-
Originally pottery marked as B M, the company changed their incised marking later in the 19th century, C.1863 to JM (the co-founder died of TB).
I suspect collectors of garden gnomes go mad for JM gnomes. Here's an ebay example:
"Antique Johann Maresch terracotta gnome. 10½ inches tall and marked on the base JM 6763. US $ 513.00"
One story I heard was the company was eventually shut down by the communist regime because they did a sculpture of the President which he didn't like. Not sure how true that is.
As I always say, I can't value or authenticate, but I know what I like, and I like Johann Maresch and their story, so thanks again for bringing this to light for this website.
Best regards,
Peter (admin)
p.s. The following page is a 'must see' if you are researching fine china - for value and identification:-
Researching the identity and value of antique and vintage fine china
.
Please post comments below which you think might be helpful……