Japanese Bone China - Gold Dragons 21 piece tea set
by Sam
(Arizona)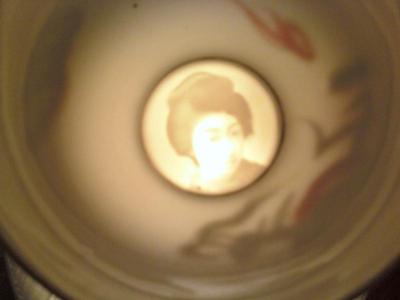 Japanese Bone China - Gold Dragons 21 piece tea set
Japanese Bone China - Gold Dragons 21 piece tea set:- My grandmother showed me these beautiful cups, saucers, and plates earlier today. There were six of each, plus a tea pot, a creamer, and what I suspected to be a sugar holder.


She reported that she had received them from her father (her parents are from the Philippines and I believe he took part in World War II), and had only used them during her and her twin's engagement parties. She believe that they were Bone china - they had little imperfections in them too.
The dragons on the plates, saucers, and cups are gold relief. When I ran my finger over them, I could feel the texture of the scales! We suspect that the coloured areas (the green, red, and some yellow) may be soft jade. We also have jade "paintings" hanging in the study, but those are actual stone, and I don't think, at only seventeen, I'm qualified to compare them.
However, on the creamer, tea pot, and sugar (?), there were not only the little dragons, but big 3D ones as well. Their mouths served as the spouts, and you could even see a tongue on the inside. Their bodies went up over the lids too, so you had to match them up to put the lids back on. These dragons had three toes (to me, my first clue that the set came from Japan) and were red with some gold.
There were no marks on the cups, and I did not look for a mark on any of the plates or larger pieces (I was so terrified I would drop them!). However, there were two Japanese kanji in a red rectangle on the bottom of the saucers: 日本
I know that this means "Nippon" (Japan), but I did a little research first and found
out that the company/maker that used this print was called "Nichi Hon", and I found a similar tea set that they had made. I can't seem to find it again, but I recall it being blue and silver instead of white, gold, and red (like ours).
Perhaps the most interesting detail in the set was that when the cups were looked directly into, and with enough light, you could see what looked to be the Emperor or the Kogo. It could also be a Geisha, since she seems to have a comb in her hair. I've included a picture of it, although my phone lacks the quality that it needs to take good pictures.
We really just want a date on the set, if anyone would like to help us out. I do not think we plan to sell it (or at least, I hope not!) nor plan to expand it. I also plan to visit the China Cultural Center with more and better pictures, and see if I can receive some Real Life help in finding out more about this set.
Sam
==============================================
Please contribute to this thread by writing in the comments section below – just scroll down...
HOW I MADE MONEY FROM BITS & BOBS OF OLD CHINA

.....more
Hi Sam
By the way, this is not bone china, it is porcelain - Japan makes porcelain, England makes bone china (a type of porcelain with bone ash added invented by Spode, Staffodshire in 1799).
There is a very lively discussion thread going on about this type of Japan Geisha ware here:-
Japanses Geisha Porcelain
For those wanting valuations go here:
My vintage and antique china values page
Peter (admin)
p.s. The following page is a 'must see' if you are researching fine china - for value and identification:-
Researching the identity and value of antique and vintage fine china
.