Karl Ens Bird - Cross With 'E' 'N' 'S' Pottery Mark
by Sandra
(Harrow,Middlesex, UK)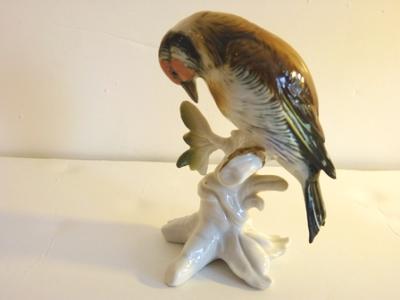 Karl Ens Bird - Cross With 'E' 'N' 'S' Pottery Mark
Karl Ens Bird - Cross With 'E' 'N' 'S' Pottery Mark:- I found this piece in a charity shop. Doing some research has helped me discover it is a Karl Ens piece. Other than that I don't know any more about it.


I would love to know more of the history-date, name of bird etc.
Sandra
=========================================
Please contribute to this thread by writing in the comments section below – just scroll down...
HOW I MADE MONEY FROM BITS & BOBS OF OLD CHINA

.....more
Hi Sandra
Many thanks for submitting, and very useful identification of a difficult to identify mark. This is great information for our site visitors - and difficult information to find online.
What I do know about Karl Ens is that he is not a sculptor, but a highly regarded Volkstedt maker.
In the 19th Century Karl Ens and a man called Triebner traded under the name Triebner, Ens & Co From c.1860 over the next few decades, due, in some part, to the work of Karl Ens' two sons, their products were to become highly regarded. Some of their child figurines are simply breathtakingly good sculptures.
To repay your very nice submission and identification, I did some digging on how much Karl Ens birds go for at auction. Please don't take this as a valuation because I am not qualified to value - and I don't normally tackle the money side of things in this identification forum, but I saw about 6 listings of various ENS bird figurines and the prices went from around $70 - $200 USD. They varied in detailing and finish - the more expensive being more ornate and highly decorated.
Hope this gives you and idea of your item.
Best regards
Peter (Admin)
p.s. How did I get to see those listing? The following page is a 'must see' if you are self-researching fine china - for value and identification:-
Researching the identity and value of antique and vintage fine china
.
Please post comments below which you think might be helpful……