KUTANI CAT BACK STAMP With "L J" Mark
by RANDY
(TULSA OK)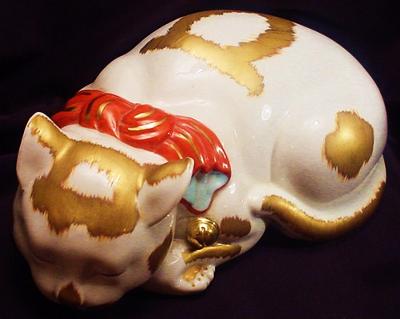 KUTANI CAT BACK STAMP With
KUTANI CAT BACK STAMP With "L J" Mark:- I received this newer Kutani Cat Figurine from an Estate that seems to be of some quality but I cannot identify the back stamp and would like some help please.


It is dated 1995 and had the gold "L" overlaid with the "J"
…thanks
Randy
============================================
Please contribute to this thread by writing in the comments section below – just scroll down...
HOW I MADE MONEY FROM BITS & BOBS OF OLD CHINA

.....more
KUTANI CAT BACK STAMP With "L J" Mark
Hi Randy
The short answer is I have no idea what "L J" mark stands for, sorry. The long answer looks at the 'sleeping cat' legend and the origin of the word Kutani, and when it is appropriate to use this term and how it links in with the word "Satsuma".
"Nemuri-neko" means "sleeping cat". Nemuri means "sleeping" or "peaceful", and neko means "cat". This tradition is based on a famous wood carving by possibly ficticious sculptor named Hidari Jingorō (meaning left-handed) said to be active in the early Edo period (around 1596-1644). The work is located in the East corridor at Tōshō-gū Shrine in Nikkō above the Kuguri-mon Gate amidst the sacred mountain shrines and temples.
The sleeping cat carving is a a highly acclaimed National Treasure and inspiration to not only Japan artists but artists around the world. Jingorō (if he was one individual person) is said to have created many famous sculptures at temples, and shrines throughout Japan and loved cats.
Nemuri Neko or sleeping cat symbolizes "Nikkō" which is the Spirit of "Ieyasu", thought to be the manifestation of Yakusi Nyorai", the Buddha of Healing, giving nourishment to the mind, body, and spirit.
With regard to the word Kutani, Jan-Erik Nilsson's website Gotheborg.com being the authority website on this subect matter, saying:-
"for novices and seasoned collectors alike, terms like "Kutani" and "Satsuma" can be a source of lament, debate and consternation"
So let's try to pick the bones out of it!
Sometimes Kutani is defined as Japanese porcelain coming from the province of Kaga (Ishikawa). I believe this also relates to the style of decoration which began in the "Nine Valleys" but spread elsewhere as artisans moved away and began setting up workshops and kilns further afield. Yet another association with the word Kutani is the description of wares (both porcelain and earthenware) which pre-date the 1867 Satsumaware presentations of the Paris Exhibition of 1867. It can also be used as a general term for any wares made to look like traditional production of 15th Century Kutani wares.
To an expert, this area is complicated, to a non-expert like me this is a minefield. For example, Kutani can be found in many different colors and styles and there are sub-groups which experts talk about. There is
Old Kutani (post c.1650)
Ku-Kutani (post c.1650)
Ko Kutani (post c.1650)
Kutani Shoza (1816-1883)
It is the Shoza style Kutani which some commentators associate with the "Satsuma style" and dates from the end of the Edo period in the 19th C. (before the Great Paris Exhibition of 1867). At the Paris Exhibition "Satsuma Ware" was introduced by the Shimazu daimyo (ruler of the Satsuma province).
The characteristic of this Satsuma ware is that it has
the very intricately detailed and painstakingly painted colored enamel layers of decoration and gold gilt showing Japanese ladies and men and other scenes from Japanese life.
You see quite a bit of this for sale on eBay and elsewhere. It is said that this 'new' Satsuma ware was greatly influenced by Kutani Shoza (1816-1883), the difference being the Satsuma Ware of Shimazu daimyo at the Exhibition was made purely for export.
Personally, I would not be able to tell the difference and know very little on the subject apart from it is the Shimazu daimyo style of Satsuma ware which most commonly comes up for appraisal in my
"Bring In the Experts" valuation liaison service
.
Here is an extract from one of the expert reports:-
"This vase is in design and style quite typical of the wares that were made in Satsuma in Japan in the second part of the 19th century. Satsuma (the name of the town) ware is comparable to stoneware. It is a little harder than earthenware but less strong than porcelain. The items manufactured tend to be heavy. The decoration is always in this multi-colored pallette, with orange and brown overtones. Satsuma did not produce wares for export in the 17th and 18th century as did Arita and Hirado. It was after Japan opened to the West in the 1860's that production started and very much with the European taste in mind. Some items are marked for decorators and workshops. Standard forms are plates, dishes and vases. However, a lot of novelty items were also produced. However, this vase is a rather late rendition of the type and could in fact be made in another place than Satsuma."
The word Satsuma originally refers to the powerful feudal domain in southern Kyushu where the famous oranges originate from, but the eBay guide on the ceramic products bearing the "Satsuma" description refers to this definition from the Webster's dictionary:-
"Satsuma Ware:- a hard fine-grained buff Japanese pottery first produced about the end of the 16th century, orig. decorated with monochrome glazes, and from the late 18th century finished with increasingly ornate over-glaze enamels and gilding."
The author goes onto explain that original Satsuma or "Satsuma-Yaki" as it is known in Japanese is said, ironically, to have been developed by Korean potters and can be identified by its finely crackled transparent glaze, with little, no or elaborate decoration.
Some people collect "1867 style" Satsuma ware, whereas some only collect traditional Satsuma-yaki. Some collect what is referred to as "Satsuman" style and would incude both.
So Satsuma and Kutani is often jointly referred to as the "Satsuma style". Kutani can be accidentally or deliberately wrongly referred to as Satsuma ware (Satsuma ware is normally worth more than the 'Satsuma style' of Kutani). Remember, it is not uncommon to find Kutani in the very same shapes and styles as Satsuma ware and Satsumaware bearing the pottery marks of Kutani.
Satsuma / Kutani - altogether a complex area and not for the feint-hearted. Take a deep breath and start researching!
Peter (admin)
p.s. The following page is a 'must see' if you are researching fine china - for value and identification:-
Researching the identity and value of antique and vintage fine china
.
Please post comments below which you think might be helpful……