Lion & Griffin (Gryphon) Cookie/Cracker Jar Mark Query
by Brian
(Palm Springs, CA)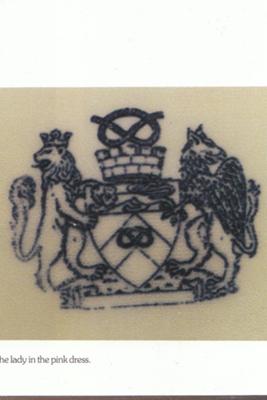 Lion & Griffin (Gryphon) Cookie/Cracker Jar Mark Query
Lion & Griffin (Gryphon) Cookie/Cracker Jar Mark Query:- I have purchased a cookie jar which all of my collector books indicate "maker unknown". The jar has a base mark that contains the Staffordshire knot and I have searched and searched sites, including yours, trying to identify the mark but to no avail.


I am attaching a jpeg of the mark and a jpeg in a different email of the jar itself. She is simply called "Lady in Pink Dress."
I hope you can help me out...
Thank you in advance for your time and trouble.
Brian
========================================
Reply from Peter (admin) below - just scroll down
HOW I MADE MONEY FROM BITS & BOBS OF OLD CHINA

.....more
Reply by Peter (admin)
To:- Lion & Griffin (Gryphon) Cookie/Cracker Jar Mark Query
Dear Brian
Sorry to take a while to answer - it's been rather rushed at my end.
Thanks for your interesting query, I really appreciate the time and trouble you took to contact the site and share this fascinating image.
Interesting and distinctly different mark - and VERY obscure, as your books attest to.
It's not showing in any of my books either. However there are, of course, many Lion and Unicorns (British Royal Arms), many lions and lions, even a lion and a deer. There are also double griffins, and single Griffins etc etc.
The makers who use the Stafford knot are in their dozens
- very common.
But there is not one example of a lion with a griffin anywhere. In fact when I checked various heraldry books I could not find any references at all of the lion with the griffin as a standard Heraldry device.
You could try some research in this direction - the Griffin is associated with Yorkshire more than Stoke (Rockingham, for example, and others if my memory serves).
My guess is the mark belongs to a small, short-lived company possibly Anglo-American. A small Staffordshire firm exporting specific wares to America via a retail customer or distributor perhaps. The griffin might have been added as a doff to the stateside client.
(**UPDATE** - to see if this wild guess was right or wrong KEEP READING! More answers below)
If you'd like an expert opinion, you can use my
'Bring In The Specialists'
page to contact a professional appraiser. You don't have to pay any money upfront to use this unique service, and I've designed it especially to protect my visitors from wasting time and money online.
Sorry I can't help more. Keep me posted if you find any more information on your mystery mark.
Best regards,
Peter (admin)
p.s. The following page is a 'must see' if you are researching fine china - for value and identification:-
Researching the identity and value of antique and vintage fine china
.
Please post comments below which you think might be helpful……