Mark of the Sevres China Co?
by Joan
(Indiana)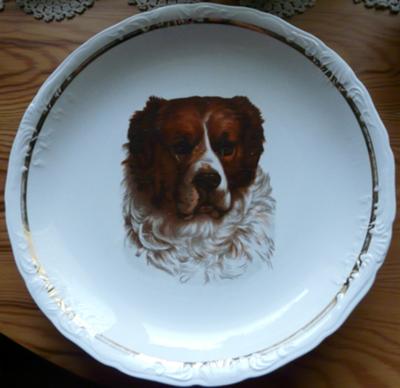 Mark of the Sevres China Co?
Mark of the Sevres China Co?:- I acquired this piece from an estate sale of an antique dealer that had been boxed up for 30+ years. There was a good mix of china, glassware, and other items from many ages. Most of it, I would guess, dated early to mid-twentieth century, with about 1/4 to 1/3 dating earlier.


This is a round platter, 12" in diameter. It is heavy, without any crazing. The Saint Bernard appears to be over-the-glaze and looks like transferware. There is a band of gold drawn in a line which intersects the raised pattern of the ceramic base.
What I'm curious about is the hallmark on the back. It is under-glaze.
I know it is not a Sevres mark from the old French marks 19th-18th centuries, and of course, the piece does not have the aged look it should if it dated to that period.
Some of research I have done indicts the mark as belonging to Sevres China Co of East Liverpool, Ohio, which was in business from 1900-1908. The factory burned in 1908. Please note that this information was found from a non-official source, so it remains suspect. I have been unable to locate a match for the hallmark I have; however, one online antique "mall" listed a piece with a similar design, although the name and fleur-de-lis is reversed.
Any information would be appreciated.
Joan
==========================================
Please contribute to this thread by writing in the comments section below – just scroll down...
HOW I MADE MONEY FROM BITS & BOBS OF OLD CHINA

.....more
Mark of the Sevres China Co?
Hi Joan
Many thanks for submitting, and hope you are finding the site useful. Yes, you are quite right in your research! My books clearly show the mark is that of the Sevres China Company of East Liverpool Ohio who made 'semi-vitreous ware' otherwise known as stoneware, between 1900 and 1908. The same mark can be seen with variations in the wording. Homer Laughlin of the same town also had a similar mark as did Royal China of Sebring, Ohio.
Peter (admin)
p.s. The following page is a 'must see' if you are researching fine china - for value and identification:-
Researching the identity and value of antique and vintage fine china
.
Please post comments below which you think might be helpful……