Meissen Mark & Dating Query
by Shawn Rolle
(albuquerque, NM U.S.A.)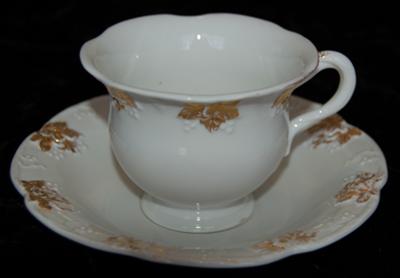 Meissen Mark & Dating Query - Cup and Saucer Vine Leaf
Meissen Mark & Dating Query - Cup and Saucer:- Hello I recently acquired a tea cup and saucer and I would like some help on identifying these pieces. I have already completed quite a bit of research however, I still do not feel as though I know enough to be able to distinguish the difference between an authentic piece of Meissen and/or a repro/copy.


I would really appreciate any information regarding these pieces.
I am mainly interested in whether these pieces are authentic Meissen, dating based on mark, style/pattern and any other information applicable.
I would like to thank everyone in advance and for sharing any knowledge you may have about this piece.
Cup & Saucer Description: The Cup and saucer both appear to have had more gold in various places. After closer inspection under a magnify glass;
The cup appears to have very small spots of gold left on the pedestal base, around the rim and approximately an inch or so from the top of the rim, inside the cup.
The saucer also has quite a bit of wear and appears to have had a gold rim.
Both pieces are free from chips, cracks, crazing. The porcelain condition is mint however, the gold has significant wear.
I hope this information proves to be helpful. Thank you very much.
Sincerely,
Shawn Rolle
=======================================
Please contribute to this thread by writing in the comments section below – just scroll down...
HOW I MADE MONEY FROM BITS & BOBS OF OLD CHINA

.....more
p.s. The following page is a 'must see' if you are researching fine china - for value and identification:-
Researching the identity and value of antique and vintage fine china
.
Please post comments below which you think might be helpful……