my grandmother's tiny vase with the mystery markings
by Lynda Burton
(Qualicum Beach, British Columbia, Canada)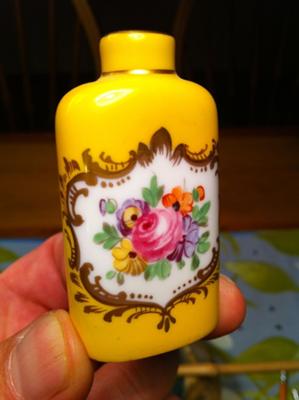 my grandmother's tiny vase with the mystery markings
my grandmother's tiny vase with the mystery markings:- My grandmother collected beautiful things and I have several of them now. Many years ago she gave my mother a miniature vase. My mother has since passed it on to me and I have always liked it's tiny stature. Recently I began to wonder about it's origin and thought it would be an easy matter to just go on the internet and find out all about it.


But no, that would have been too simple. I have entered the words on the bottom of the vase into several search bars and read paragraph after paragraph about Dresden pottery and Saxony the place but nowhere have I found any indication of what both words together (Dresden Saxony) signify?
It is a pretty thing and puts me in mind of ladies of the court. I have tried to imagine what said ladies would be doing with such a tiny vase - tucking it into their bosom with an inch of water and one tiny forget-me-not, to pass, still fresh, onto their lover?
Squeezing one stem of a very small blossom into it's gold rimmed opening and gazing in delight at the miniature duet? There does not appear to have ever been a stopper, so I doubt that this small vessel could have been meant to hold poison or medicine.
Perhaps it was a passion piece for wealthy miniature collectors and was designed to be just, well, collected! It is a rich buttery yellow, the colour of butter when the cows have gotten into the corn and has a centre crest consisting of a pink "cabbage" rose surrounded by small yellow, orange and mauve flowers and green leaves, all on a white background.
I say "crest" because this floral arrangement has a curlicued gold feathery pattern outlining the white background. If it were ramping lions instead of flowers, it would look like a coat-of-arms.
The opening is also ringed in gold.
The bottom is white and has a marking that looks like a treble clef (sort of) dancing with a stylized cursive capital F. Under that in a flowery cursive is written Dresden and under that in flowery printing it says Saxony. This is all done in a somewhat faded blue.
The flowers put me in mind of an English country garden, or at least what I think of as an English country garden and seem rather unsophisticated against the elegant gold feather (or leafy) pattern surrounding them.
Well I hope I have painted you a picture and you can visualize this tiny object and perhaps have an idea of where it came from and when and what it's purpose was.
Lynda
Please contribute to this thread by writing in the comments section below – just scroll down...
HOW I MADE MONEY FROM BITS & BOBS OF OLD CHINA

.....more
Peter (admin) says:-
Dear Lynda
Nice contribution beautifully written and a great explanation.
This is a perfume bottle or 'vial' that has lost its stopper. If you Google hard enough you will find photos of almost identical ones with the same logo and a matching small stopper with an attached dipping rod known as a 'dauber'.

It is from an unidentified Dresden decorator probably of the late 19th Century. I think the cursive letters say "F" and "S".
Dresden is an important city in the heart of the Duchy of Saxony - which is why the words are together.
This studio would not have fired the porcelain - they would have merely bought in the whiteware and hand painted the items.
A very bright and beautiful hand painted antique. Shame about the stopper - this reduces value greatly.
Best regards
Peter (admin)
For general free advice on how to research your collection, I wrote these pages:
My vintage and antique china values page
value of antiques
.