N with Crown Above Pottery Mark Query on Biscuit Barrel Jar with Napoleon Portrait
by Sherri
(New Jersey)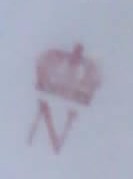 N with Crown Above Pottery Mark Query on Biscuit Barrel Jar with Napoleon Portrait
N with Crown Above Pottery Mark Query on Biscuit Barrel Jar with Napoleon Portrait:- I purchased this porcelain Napoleon biscuit jar at a reputable antiques store in New Jersey. I've had a hard time identifying the mark and approximate age. It has a crowned N on the bottom - the mark is repeated in gold on the lid 3 times. Someone suggested Capodimonte, but I've had difficulty finding a matching mark.


Any ideas?
Sherri
=======================================
Please contribute to this thread by writing in the comments section below – just scroll down...
HOW I MADE MONEY FROM BITS & BOBS OF OLD CHINA

.....more
N with Crown Above Pottery Mark Query on Biscuit Barrel Jar with Napoleon Portrait
Hi Sherri
Many thanks for submitting this interesting jar/barrel, most full of its own importance, I must say - just like the little Emperor himself!
So full of its own hype is this biscuit barrel. Not once, not twice, but 3 times the mark is stamped on its lid!!
...and then once again for good luck on the base, just in case we missed it.
Well, well well, never have I seen such self-aggrandisement!
The silly/ironic thing is, the mark on this item - the N with a crown - is possibly the most meaningless of all marks. Originally the mark of Naples placed on the most fabulous of Italian wares.
It was Ferdinand IV who founded the Porcelain of Naples back in the latter part of the 18th Century. It was this factory that used the letter N with crown. This unit closed in 1821 and was acquired by the Ginori Manufactory in Doccia, near Florence. Ginori
pre-dated the Napoles factory stemming from 1713. They continued using the N pottery mark making reproductions of the older 'Capo di Monte' wares with the purchased moulds and equipment.
The term Capodimonte or Capo di Monte or Capodemonte or Capo de Monte ceased to mean anything, apart from a vague homage to the original factory when, at the end of the Napoleonic wars several competing factories began making wares and calling it 'Capodimonte'.
It would be like having several competing makers all calling themselves "Staffordshire Wares".
After that, the N above crown was copied again and again and again throughout history. Many German factories, particularly Thuringian, started to use the N mark. French makers like Sevres have also used the N & crown.
So, I understand why your research has been difficult.
My
valuation experts
have an uncanny knack of being able to tell, not only the value, but also the age, region and history of the style. They know all this even thought the actual maker may be impossible to trace. I suppose this is why they are experts.
It wouldn't surprise me if the experts came back and said this was a later French made piece around the turn of the Century (c.1900) made in the style of a Sevres item. However, I am no expert, this is pure speculation and a little knowledge is a dangerous thing, so please don't trust what I say.
Peter (admin)
p.s. The following page is a 'must see' if you are researching fine china - for value and identification:-
Researching the identity and value of antique and vintage fine china
.
Please post comments below which you think might be helpful……