Oriental (Chinese or Japanese?) Pottery Mark Query - Impressed symbol on Umbrella Stand
by Brenton Douglas Ballew
(Bryson City, NC, United States)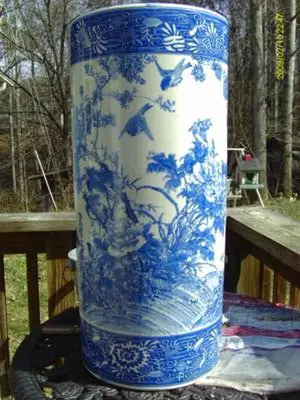 Oriental (Chinese or Japanese?) Pottery Mark Query - Impressed symbol on Umbrella Stand
Oriental (Chinese or Japanese?) Pottery Mark Query - Impressed symbol on Umbrella Stand:- What I have is what appears to be an antique porcelain oriental umbrella stand. It is in excellent condition and is handpainted in traditional blue and white. An elderly woman that my grandparents cared for left it to them upon her passing.


It has been with our family for about 15 years now. The real question that I have is: There is an impressed manufacturers mark on the bottom of the umbrella stand that appears to be either a chinese or japanese character/symbol.
I have asked friends of ours who have said that the symbol would be specific to the individual manufacturer and couldn't actually be "read".
I have attached a photo in hopes that someone with some expertise in antique pottery could help us determine who made this and possibly when.
I appreciate any and all time and consideration. Thank you in advance.
Please contribute to this thread by writing in the comments section below – just scroll down...
HOW I MADE MONEY FROM BITS & BOBS OF OLD CHINA

.....more
Dear Brenton
Many thanks for posting this submission. For some reason the photos did not get uploaded, but never mind, just go to a new form and upload again, saying they are from you and for this thread, and I will transfer them manually over for you.
The subject of Chinese and Japanese markings on ceramics and porcelain is, as your friends so rightly pointed out, a can of worms for the uninitiated, to be sure.
I have to refer all of these types of query
to my
ceramics expert referral service
as, unlike European and American wares, there is only a limited amounts this public forum can achieve by way of freely given mutual help and assistance.
Why do I say this?
I have had many queries about Chinese and Japanese antique china come through my online expert referral service since it started in 2008, and I have to say that some wares have been modern yet very authentic looking.
I have seen other genuine antiques of very high quality which have been marked as imperial, but not actually not from the court kilns, but still worth hundreds of dollars.
I have seen items with genuine looking antique Chinese calligraphy markings, but nevertheless made for export in the 19th Century.
.... And so on.
The point is, until I get the expert's report back, I myself have absolutely no idea what to expect from a Chinese or Japanese piece.
I am constantly being surprised and educated into understanding just how complex this area is.
It's a case of 'the more you know, the less you you actually know'.
Your query and comments, as well as several other queries of late have prompted me to write an article which I am going to tag onto this thread (see comments below).
My hope is that this article will help enlighten people on this large and unruly subject of Chinese and Japanese calligraphy markings, or at least to give some general background
Peter (admin)
"Did you know?... the most popular pages on the site are..."

IDENTIFYING POTTERY MARKS ....more
CHINA PATTERN IDENTIFICATION ....more