Pitcher with green stamped crown Bavaria N Germany
by Jackie
(Louisville, Ky 40258)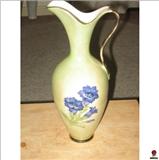 Pitcher with green stamped crown Bavaria N Germany
Pitcher with green stamped crown Bavaria N Germany:- hello, I have a pitcher that I was told was actually a vase made to look like a pitcher to avoid the luxury tax on vases that was made in Bavaria Germany.


My pitcher is a light green with blue flowers and gold trim. I bought it because I liked it and have only found one similar in style that was marked as unknown in regards to maker and age.
I have tried very hard to find this mark. It is green with a crown on top followed my the name of the maker that I can not make out, then Bavaria N Germany.
I was also told that little was known about these and the marks used as they were destroyed during WW ll.
I was also told that the flowers were not hand painted and that because I could not make out the factory/maker it was worth $10.00.
Talk about busting someones bubble... I have searched for days and hours, my legs going numb from sitting at the computer trying to research this item.
If anyone can help out it would be greatly appreciated.
Thank You... new to collecting but loving it...
I found this lovely item at a peddler mall. This is my new hobby. I have read Kovel's book of marks, warman antique guide and lots of research, but its so much fun...
Jackie
========================================
Please contribute to this thread by writing in the comments section below – just scroll down...
HOW I MADE MONEY FROM BITS & BOBS OF OLD CHINA

.....more
Hi Jackie
I will publish this query and with a bit of luck, one of our knowledgeable contributors will help out on this one – (check out the comments section below for replies).
If not, I'll try to get back to this one later.
Best regards
Peter (Admin)
p.s. The following page is a 'must see' if you are researching fine china - for value and identification:-
Researching the identity and value of antique and vintage fine china
.
Please post comments below which you think might be helpful……