Possibly Wiener Werkstätte Studio Pottery Terra Cotta Elephant Sculpture Incised "WW" or "MW" with 1920's Ovington's 5th Ave Retail Label
by JM
(TX)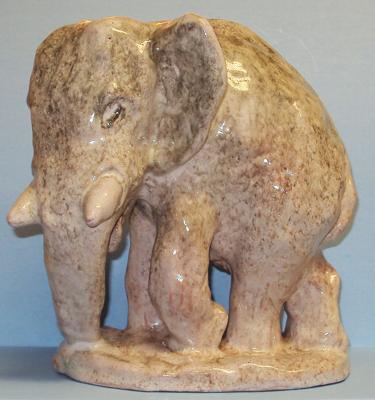 Possibly Wiener Werkstätte Studio Pottery Terra Cotta Elephant Sculpture Incised
Possibly Wiener Werkstätte Studio Pottery Terra Cotta Elephant Sculpture Incised "WW" or "MW" with 1920's Ovington's 5th Ave Retail Label:- I have a 10" tall terra cotta elephant sculpture that was retailed by Ovington's 5th Ave. circa the 1920's. It is incised on the bottom with an M and a W and also the number 500I. It was suggested that this is Wiener Werkstatte, but I don't think so. Does anyone have a suggestion as to who made it?


Thanks!
JM
=========================================
Please contribute to this thread by writing in the comments section below – just scroll down...
HOW I MADE MONEY FROM BITS & BOBS OF OLD CHINA

.....more
Possibly Wiener Werkstätte Studio Pottery Terra Cotta Elephant Sculpture Incised "WW" or "MW" with 1920's Ovington's 5th Ave Retail Label
Hi JM
Wow! What an interesting submission - on so many different levels. Where do I begin, this is mouthwatering?
First of all, many thanks for submitting this fabulous item, it is posts like this which is the lifeblood of this website and makes it so interesting to follow (especially for me).
Hope you are finding the site generally useful.
I don't have all the answers and am not myself and expert, so I can add to the debate on this one rather than give you definitive answers.
To my eye, this studio pottery sculpt could very well be consistent with the arts and crafts style coming out of the Wiener Werkstätte studios in the early part of the 20th Century. Most definitely, in my view. To my eye, this is a nice piece.
My problem is my books are generalist books and do not cover the pottery marks of the Wiener Werkstätte and when you Google this world famous arts and crafts studio, you mostly get stuff on their jewellery rather than their ceramics.
So it would be great if a knowledgeable visitor (or someone with access to specialist books) could confirm whether this incised WW pottery mark (or MW mark) is consistent with belonging to Wiener Werkstätte. As I say I know little about their marking and have no immediate way of researching further right now.
Of course, you could always shortcut the wait by commissioning an expert appraiser (not as expensive as it sounds) for more info go here:-
My vintage and antique china values page
But in any case I wish you luck and I have a sneaky feeling you might have something
of value.
Many thanks again for sharing this most interesting submission.
Just a couple of notes on the Wiener Werkstätte movement in Vienna for those who aren't familiar.
Wiener Werkstätte (Translates as "Viennese workshops") was a joint or co-operative venture for all arts and crafts and leading edge design. It was founded in Vienna in 1903 and greatly influenced by the English Arts and Crafts Movement and its figurehead and philosopher-in-chief, William Morris. Incidentally, in a past career I was a buyer for Liberty of London who were a major player in this movement and to this day, they still apply the principals of the arts & crafts style in their modern day merchandising (the famous Liberty Prints - most of which designed by Morris himself). If you are ever in London, be sure to pay a visit as the store it is just a stones throw away from Trafalgar Square, Picadilly Circus, Covent Garden and Leicester Square (the centre of London is tight, unlike Paris which is a vast sprawling urban pancake or should I say crepe - sorry Paris-philes).
The WW studio was originally thought up by Koloman Moser and Josef Hoffmann. Their idea, in the face of the faceless mass-production values of that era was to flag up and remind and re-introduce the beauty and energy of hand craft and the human touch.
It was a gut reaction against the call of the day "progress". In a similar way, the same is happening today, especially in my industry (UK Ceramics) but I won't go into that here.
Originally, the artistic members had close associations with the Art Nouveau movement, but as time went by, the work took on the appearance of the new Art Deco movement. Important members of this movement were none other than Gustav Klimt and Egon Schiele. Can't get more important than that. If you look at Klimpt, he in particular works within motives of both the art nouveau and art deco movements, being a major figure in the transition of one to the other in my opinion.
So if your elephant is tied up in this movement, it is an important retail piece and depending on the edition might be worth something.
Peter (admin)
p.s. The following page is a 'must see' if you are researching fine china - for value and identification:-
Researching the identity and value of antique and vintage fine china
.
Please post comments below which you think might be helpful……