Pottery Mark Device Shaped Like a Candle & 'L' or 'i' from Iceland
by Elisabet Arnardottir
(Reykjavik, Iceland)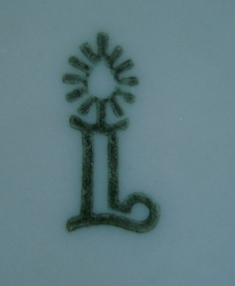 Pottery Mark Device Shaped Like a Candle & 'L' or 'i' from Iceland
Pottery Mark Device Shaped Like a Candle & 'L' or 'i' from Iceland:- I have a small, almost triangular pale pink dish/plate with two fish (or leaves), gold rim. I would like to find out more about this item and also who the maker is, please. Many thanks for having this site where we can help and be helped.


Any help would be greatly appreciated.
Many thanks
Elisabet Arnardottir
Please contribute to this thread by writing in the comments section below – just scroll down...
HOW I MADE MONEY FROM BITS & BOBS OF OLD CHINA

.....more
The forum Help Elf says:-
Hi Elisabet
This is a completely unknown mark to me and is not shown in any of my reference books, so let's hope someone else knows this mark.
I look at quite a lot of china and, without pretending to be any kind of expert, all I can say is what I see.
The styling has a Scandinavian flavour to my eye. Both in the shape, the colours and the fish illustrations. You come from Iceland - which is, I think, classified as Scandinavian, isn't it? I think the design and quality of this dish is really very good and it looks very 1950's to me.
Do you have any way to go to a local library and research any Icelandic china manufacturers, after all the other mainland Scandinavian countries have a long tradition of fine porcelain and very excellent design traditions.
For general free advice on how to research your collection, Peter wrote this page:
value of antiques
.
H.E.