"Pottery Mark Query - 'B' Inside Star" , Germany
by Mark
(Andover, NJ, USA)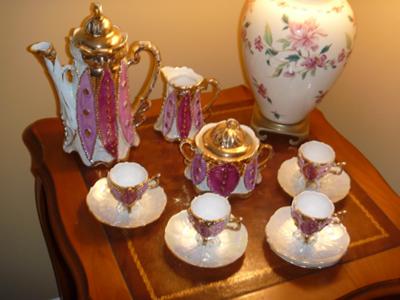 "Pottery Mark Query - 'B' Inside Star" , Germany:- My mother recently passed away, and in going through her things we came across an old tea set that belonged to her sister. My aunt got married around 1950, maybe it was a gift?


It consists of a Tea Pot 8 inches tall, 10 inches with lid. A Creamer and sugar bowl (also with lid). Also, four demitasse style tea cups with saucers. There is a fifth saucer, so I don't know how many cups it originally came with.
The set is white with two shades of pink and lots of gold trim...VERY ornate.
The only markings are a capital "B" inside a star like pattern, and "Germany" under the star.
I hope the photos come though OK.
I'm not looking to sell the set. I'm just curious to find out whatever I can about it....dates, manufacturer etc.
Thanks for any help!
Mark
Please contribute to this thread by writing in the comments section below – just scroll down...
HOW I MADE MONEY FROM BITS & BOBS OF OLD CHINA

.....more
"Pottery Mark Query - 'B' Inside Star", Germany
The forum Help Elf says:-
Hi Mark
This mark is not shown anywhere else on this site, or elsewhere online that I can find (for example, the excellent but jumbled efineantiques.com site), nor in my Kovel's Guides or Millers guides.
However, frustratingly, in the back of my mind, I feel I have seen this mark before somewhere. If it comes to me, I will post. It looks like it could be Bayreuth/Tettau ware, but this is not a mark of theirs.
Other knowledgeable contributors please post if you know this B inside a star mark.
For general free advice on how to research your collection, Peter wrote this page:
value of antiques
.
H.E.