Pottery mark query blue circles and Oriental Writing in Red
by Philip
(Birmingham , uk)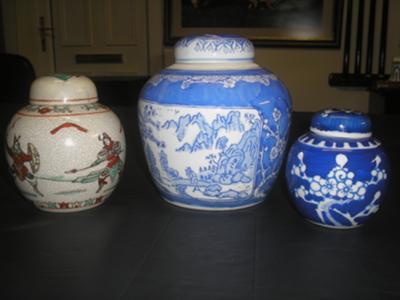 Pottery mark query blue circles and Oriental Writing in Red
Pottery mark query blue circles and Oriental Writing in Red:- Hi Ive been give these ginger pots ( I think ) which I really love and would like to know a little more about them, I dont think they are of any value. One has some fighting Japanese men on and the other has blue circles on the bottom.The third is slightly larger with no markings on.


A good friend of mine gave them to me as he was having a clear out and was going to throw them away.
They all look hand painted but Im no expert.
Ive photographed as best I can, the lines which look like cracks are reflections from strip lighting above.
If anyone could tell me anything I would be really pleased to hear from them.
Many Thanks
Philip
========================================
Please contribute to this thread by writing in the comments section below – just scroll down...
HOW I MADE MONEY FROM BITS & BOBS OF OLD CHINA

.....more
Pottery mark query blue circles and Oriental Writing in Red
Hi Philip
You did very well to save these from the garbage. I have pots like this going through the
valuation service
all the time and they vary in price, but all of them are always worth more than the valuation fee, and one was worth a staggering $1200 USD. I am not saying your are worth anything, as I simply don't know, but they are not to be chucked.
Knowledgeable contributors please try to help with this one (check out the comments section below for replies).
Best regards
Peter (admin)
p.s. The following page is a 'must see' if you are researching fine china - for value and identification:-
Researching the identity and value of antique and vintage fine china
.
Please post comments below which you think might be helpful……