Pottery mark Query - Blue 'R' inside Blue Diamond
by Dune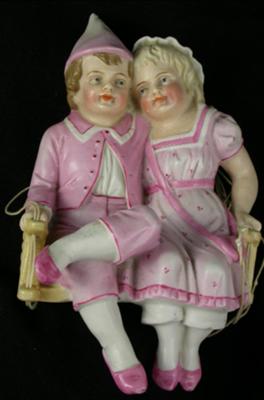 Pottery mark Query - Blue 'R' inside Blue Diamond
Pottery mark Query - Blue 'R' inside Blue Diamond:- Bisque figurine of two children on a swing. Holes in swing with string.


Additional markings are impressed numbers.
Looks like:
No. 1 (smaller 1) then 5
Underneath that, impressed "C7" or "G7"
Purchased at an estate sale. I've looked everywhere and cannot find this exact marking.
It appears German to me, but I'm no expert.
It meaasures 7 1/2" in length and 4 1/4" in width
Any help would be greatly appreciated!
Dune
=======================================
Please contribute to this thread by writing in the comments section below – just scroll down...
HOW I MADE MONEY FROM BITS & BOBS OF OLD CHINA

.....more
Pottery mark Query - Blue 'R' inside Blue Diamond
Hi Dune
============================
UPDATE
============================
This is nice, but very possibly modern and not as it appears. Read the comment threads for more information.
============================
end update (original answer continues unedited....)
Many thanks for submitting, great photos of a fantastic bit of what looks like antique German artwork. Really characterful and very nice, in my view.
In theory, this mark should be one of the more easy ones to look up. The maker has some design quality even if the make might be somewhat less so, the mark itself is not a one of the overused ones like a crown, it has a very clear and simple letter 'R'.
However, despite looking in my books and online, I can't find an obvious maker at the moment. I will keep trying and also hope this gets seen by someone who knows.
Best regards
Peter (Admin)
p.s. The following page is a 'must see' if you are researching fine china - for value and identification:-
Researching the identity and value of antique and vintage fine china
.
Please post comments below which you think might be helpful……