Pottery Mark Query - Cross Swords with letters R & P plus words: Germany and Dresden
by YK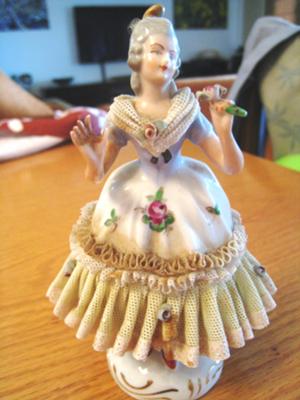 Pottery Mark Query - Cross Swords with letters R & P plus words: Germany and Dresden
Pottery Mark Query - Cross Swords with letters R & P plus words: Germany and Dresden:- Hello, The enclosed porcelain figure of a woman holding a flower? in her hand with a lace dress (bottom and top).


The mark on the bottom is a cross swords with what seems to be the letters P and R as the base of each sword. In addition the words Germany and Dresden are below the swords.
This figure is in my family for many years.
Thanks,
YK
Please contribute to this thread by writing in the comments section below – just scroll down...
HOW I MADE MONEY FROM BITS & BOBS OF OLD CHINA

.....more
The forum Help Elf says:-
The maker is Martha Budich of Dresden. These were made in post war Dresden in the GDR within the communist block under Soviet rule. The letters are not R & P but M & B.
For more information see:-
Martha Budich crossed swords pottery mark
For general free advice on how to research your collection, Peter wrote this page:
value of antiques
.
H.E.