"Pottery Mark Query - G+P over BAVARIA" emblem
by Deano
(Smyrna, DE USA)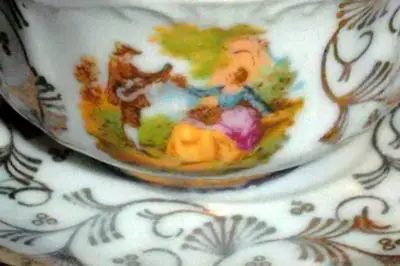 "Pottery Mark Query - G+P over BAVARIA" emblem:- My wife, Cheryl inherited this beautiful Tea and Coffee set from her aunt. Her aunt and uncle were in the military and traveled the world. He was a military Attache and they met with and dined with many influential people.


The stories of their travels, unfortunately, died with them but Cheryl's father will sometimes retell a story about Aunt Jen and Uncle Ted leaving for Formosa and how upsetting it was to Cheryl, him and Cheryl's Mom. Cheryl only saw her Aunt Jen occasionally during the holidays but she remembered and loved her Aunt Jen very much.
Anyway after retirement from the military they settled down in Colorado or Arizona. I'm not sure what state because I met my wife after she received this set and even though she told me I invariably forgot.
The pottery mark is stamped on each piece and stamped into the bottom of each major piece is 90/#. The # identifies each major piece. Cheryl does not want to sell it because of the relationship she had with her aunt but she is curious about the origin of the set.
I promised her I'd find out where it came from and who made so I have been searching the Internet and eventually I found your website.
I want to thank you for providing this service, it seems that everyone wants payment.
Thanks again,
Deano
=========================================
Hi Deano
I believe this is one of the marks of Gareis, Kühnl & Co of Waldsassen, Bavaria - used in the early part of the 20th Century, the 'GP' stands for Gareis Porcelain. They merged with Bareuther in 1969 which in turn only lasted until the 1990's as I understand it.
Lovely set. Nice story.
Regards
Peter (admin)
p.s. The following page is a 'must see' if you are researching fine china - for value and identification:-
Researching the identity and value of antique and vintage fine china
.
Please post comments below which you think might be helpful……