Pottery mark Query "Impressed 'C S L' inside of Triangle" Hand Made Underneath
by judith - Pottery mark Query "Impressed 'C S L' inside of Triangle" Hand Made
(Wisconsin USA)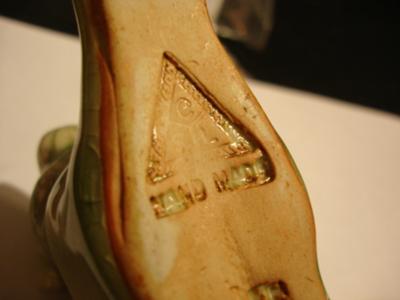 Pottery mark Query
Pottery mark Query "Impressed 'C S L' inside of Triangle" Hand Made Underneath Dog Figurine:- Pottery Dog Figurine (Newfoundland?) in Clay, Lime Green Glaze, heavily crazed. Studio mark is a Triangle formed of scroll-work,a 'Y'Shape in the center of the Triangle forms three compartments each of which contain a Letter (C,S or L)impressed below the Triangle is "Hand Made"


The Bottom of the Figure is slightly 'Cupped' and a Signature is impressed on either side - I can't tell if the Signature is inverse/backwards.
Purchased at an antique store because I liked the Dog.
Thanks in advance.
Judith
=================================
Reply by Peter (admin)
to:-
Pottery mark Query "Impressed 'C S L' inside of Triangle" Hand Made Underneath
Hi Judith
I have been looking at this interesting submission and several things strike me....
First is the quality of the modelling, ceramic decoration and finishing on the dog. It is actually quite nice quality, the modelling has a nice natural feel and the glaze and decoration is well done to my eye. The mark is also of has a nice artisan quality.
So this it doesn't seem to be a fly-by-night cheap mass produced item, made in a rush in the export hungry 20th century economy. It is more consistent with late 19th Century, or early 20th Century principles of care and quality in the making (even if it wasn't a very expensive item at the time)
So one would expect to be able to find references to this distinctive (and quite easy to search online for) impressed CSL triangle mark. I can find none at all, either online or in reference books - which is somewhat of a mystery.
There was one reference I found in a very old book from 100 years ago - but I don't think this C.S.L. is connected to this mark at all.
It is referring to a report on Pottery and Porcelain exhibits at the Paris Exhibition of 1867 - It says:- "This monogram of C. S. L. is a mark on Venetian maiolica"
So if anyone can shed light on these wares we would be very grateful.
Please post below
Peter (admin)
p.s. The following page is a 'must see' if you are researching fine china - for value and identification:-
Researching the identity and value of antique and vintage fine china
.