Pottery Mark Query IPC (I P C) Initials inside iron cross symbol with 'Beau Vitreous' Above
by Kathy
(Ohio)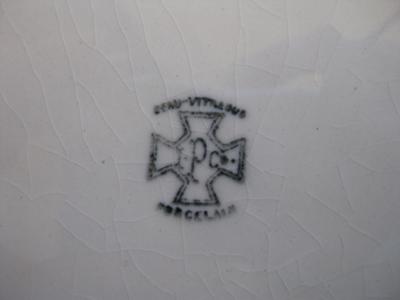 Pottery Mark Query IPC (I P C) Initials inside iron cross symbol with 'Beau Vitreous' Above
Pottery Mark Query IPC (I P C) Initials inside iron cross symbol with 'Beau Vitreous' Above:- I have a pitcher/basin which I suspect is 200+ years old with markings on the bottom that look like "Beau Vittleous Porcelain." There are initials and dots inside the symbol. The initials are IPC with the P larger than the other two letters.


Kathy
==============================
Please contribute to this thread by writing in the comments section below – just scroll down...
HOW I MADE MONEY FROM BITS & BOBS OF OLD CHINA

.....more
Peter (admin) says:-
200 years old? - highly unlikely (1811?). Early 20th century likely, so 100 years old maybe. This would be a small obscure European or American maker even a post war Japanese importer trying to look the part. It looks German because of the iron cross, but the words are in English, not German.
That's my twopenneth, based on an extensive advanced search online for a maker called IPC - which revealed only a couple of other items with this mark on, making this a very obscure maker. Neither listing had any clue at all as to who this maker was. My own searches in my encyclopaedias came up with nothing either - but they are general European books rather than being specialist in any one area and likely exclude very small obscure makers, either European or American.
It would be great to have a knowledgeable contributor solve this mystery for us.
I suspect there is someone out there who knows who this mark belongs to and as this page is sure to be found on Google for the keywords, and therefore, I am confident of getting an answer to this pottery mark query soon.
For general free advice on how to research your collection, I wrote this page:
value of antiques
.
My vintage and antique china values page
Peter (admin)