Pottery mark Query on Ornate Oriental/Asian Looking Jug Pot and 4 cups and saucers
by Frank Bird
(Cardiff, Uk)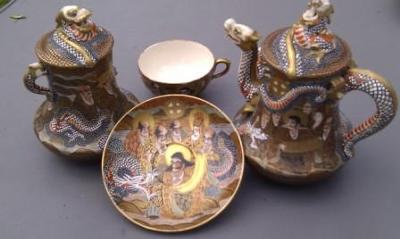 Pottery mark Query on Ornate Oriental/Asian Looking Jug Pot and 4 cups and saucers
Pottery mark Query on Ornate Oriental/Asian Looking Jug Pot and 4 cups and saucers:- Found in my fathers collection. I was wondering what you could tell me about this set. The hand detailing seems quite labour intensive and meticulous.


Frank
===========================================
Please contribute to this thread by writing in the comments section below – just scroll down...
HOW I MADE MONEY FROM BITS & BOBS OF OLD CHINA

.....more
The forum Help Elf says:-
This is an example, I think, of 19th Century Japanese Satsuma ware. Some sales descriptions describe this a Satsuma Dragonware.
Some experts get quite sniffy about this ware, despite how much hand work has gone into the making if it and that it may well be genuinely antique in some cases. I have seen it listed in a certain websites articles as 'unloved antiques' as it is not rare and many examples are available.
However, I quickly looked up some examples of this ware at auction hammer price sales (not eBay, but proper auction houses offline) and saw that in the past few years over many hundreds of auctions over the past few years all over USA, UK and Europe, not that many had been put up for sale - so not that common then.
When I put in the search at the auction houses for "Satsuma tea set" most examples looked like your Japanese Dragonware to me. 82 tea sets had been sold between $100 - $500 USD. 49 had sold at under $99 USD and 16 had sold at between $500 and £1500 USD.
Unloved?..... Doesn't seem that way to me.
How did I do this research?
Read and digest this page to find out...
Researching the identity and value of antique and vintage fine china
There is a difference between and antique dealer or website or ebay seller whacking on a big ticket price and a set actually selling for top dollar at a hard nosed
auction-house sale.
So just a bit about Satsuma ware.....
The characteristic of this Satsumaware is that it has many layers of enamel moriage decoration depicting Japanese people in traditional costume and scenes from Japanese life.
Peter wrote an article on this subject from the perspective of an ordinary person (a non-expert) trying to get to grips with this complex subject of Japanese ceramic history.
To access this article just go to one of the in-house search boxes and put in the search term;
"1867 Satsuma ware Paris Exhibition"
and you will find this article at the top of the non-sponsored listings.
To summarise, it seems that the "Satsuma style" is a style of Kutani ware. Kutani is an area in the northern part of the district of Kyoto, well known for a long history of ceramic production. The literal translation of the Japanese word 'kutani' is 'nine valleys'. Kyoto is a city as well as a district (or 'prefecture').
Kutani now seems to have become a generic nomenclature for several styles of pottery coming from that general region - and other bordering regions that have been influenced by the the Kyoto/Kutani ceramicists skills. An example of one such neighbouring region would be Kaga. Kaga is a town and area in a separate prefecture to the north west called Ishikawa. This whole district used to be called Kaga Province, but the name was changed to Ishikawa.
19th century Satsuma that is well made does have a collectible value, but bear in mind, it was made for export and many families have been keeping it displayed in cabinets or under safely wraps, so there is quite a lot of it around still. Also the majority of what we have in the West from the 19th Century are copies of older styles, so although antique in their own right are reproductions.
For general free advice on how to research your collection, Peter wrote this page:
value of antiques
.
H.E.