Pottery Mark Query - 'S' Beneath Crown on Bunnykins Type Figurine
by Carol
Pottery Mark Query - 'S' Beneath Crown on Bunnykins Type Figurine:- Hi, Peter, I recently bought 4 animal ornaments on ebay, 3 squirrel's and 1 rabbit, having looked on your site I was wondering if they were made by P Donath?


Not really bothered about the value but I would like to increase my collection of these delightful little creatures,
Attached are 2 pics as requested, hope the quality is good enough for you to see, thanks.
thanks
Carol
=========================================
Reply from Peter (admin) below - just scroll down
HOW I MADE MONEY FROM BITS & BOBS OF OLD CHINA

.....more
Reply by Peter (admin)
To:- Pottery Mark Query - 'S' Beneath Crown on Bunnykins Type Figurine: Donath?
Hi Carol
Thanks for your interesting query - Yet another slightly different of 'S' under Crown backstamp on a figurine! There has been a rash of these lately - and the thing is - none of them quite match the various makers shown in the books (Donath/Tuppack, Carl Scheidig or Voight/Sitzendorf)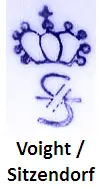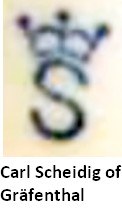 See my other entries on this subject here:-
Crown above S post
(beautifully sculpted figure of a boy pulling a cow - serious art this one)
Crown over S post
The original post from a person who didn't upload photos of the 'S' below crown pottery mark, unfortunately.
Your pottery mark 'S' under crown, could be one of these German figurine makers from the Silesia region, there again it could be a far east faker cashing in on the 'wooliness' of the marks from this region.
My view is the S/crown mark of the
boy pulling a cow
is definitely Germanic art - very high quality and impossible to reproduce by lesser artists. Your little animal caricature, I am not so sure where these were made - they could be either post war Japan or post Soviet rules East Germany (after 1945).
As I haven't got a separate entry for the Donath/Tuppack factory, I am going to quickly put their details here (for my own quick reference as much as for everybody else's).
-------------------------------
Sidebar
-------------------------------
Background of Donath/Tuppack factory:
Tuppack/Donath of Tiefenfurt, Silesia
The region of Silesia is now based in Poland was previously a province of Prussia.
Historical timeline:
- Friedrich Nicolai Matthiesen (1808 - ca. 1860)
- Reinhold Matthiesen (ca. 1860 -
1872)
- Schlesische Porzellan- Steingut-Manufaktur AG (1872 - 1885)
- Schlesische Porzellanfabrik Louis Lövinsohn (1885 - 1891)
- Schlesische Porzellanfabrik P. Donath (1891-1909)
- Schlesische Porzellanfabrik P. Donath GmbH (1909 - 1916)
- Schlesische Porzellanfabrik GmbH (1916 - 1919)
- Carl Hans Tuppack GmbH (1919 - 1944) 
Tuppack/Donath were based in Tiefenfurt Silesia. The history of porcelain production in Tiefenfurt, dates back to 1808 with the establishment of the Johann Heinrich Nicolaia Matthiesen faience factory. In 1865, his son Friedrich Nicolai Matthiesen expanded the production of porcelain products, but in 1872 the factory was taken over and functioned under the name Schlesische Porzellan- und Steingut-Manufaktur AG , which after its success in the first years, declared bankrupt in 1885. Goods were made of porcelain , then decorated and were high quality and luxurious. Faience was also made and sold to the provinces of Poznañ, to the port cities of the Baltic Sea and to Hungary. Investments in new facilities and machinery in the years 1872-1874 doubled production capacity and raised the quality of the products offered.  Louis Lövinsohn took over the main factory of the fallen factory in 1885, where Paul Donath was the managing director. The factory also owned its own paint shop. 120 employees produced faience and luxury porcelain. The specialty of the factory was in addition to porcelain flowers were rococo dishes. Based on an a negotiation in 1891, the factory was transferred to director, Paul Georg Alfred Donath, who led it under the name Schlesische Porzellanfabrik Paul Donath. From the "Schlesisches Porzellanfabrik P. Donath" (1891 to about 1920), luxury and utility goods were manufactured and also exported to England, America, Russia, France, Sweden and Turkey.  In 1909 the factory was transformed into a Limited company (GmbH). Ernst Wilhelm Fischer was the Managing Director and around 1916, nearly 150 employees were employed by K. Tuppack . After the First World War the factory was taken over by Carl Hans Tuppack and led it further under the name Porzellanfabrik CH Tuppack until 1944 when trading ceased.
-------------------------------
end Sidebar
-------------------------------
Best regards,
Peter (admin)
p.s. The following page is a 'must see' if you are researching fine china - for value and identification:-
Researching the identity and value of antique and vintage fine china
.
Please post comments below which you think might be helpful……