Pottery mark query - Simple blue crown with 'A A' below
by Sarah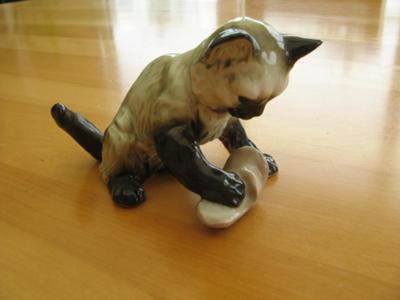 Pottery mark query - Simple blue crown with 'A A' below
Pottery mark query - Simple blue crown with 'A A' below:- I have a china Siamese cat figure, playing with a slipper, that has no name or embossed stamped number on its base, just a very simple blue crown with 2 capital letter 'A's below it. These look like they may have been printed or stamped on under the top glaze, rather than hand painted.


The figure is about 3 and a 1/2 inches tall.
Can anyone make a guess at which maker this is from or any other details about it?
Many thanks.
Sarah
===============================
Please contribute to this thread by writing in the comments section below – just scroll down...
HOW I MADE MONEY FROM BITS & BOBS OF OLD CHINA

.....more
Hi
Many thanks for submitting, and hope you are finding the site useful.
This might be yet another pottery mark of Japanese importers Arnart - but that's just a theory based on the A A stamp. In fact, the modeling, crown mark and make do have a distinct German quality about them.
We have had other submissions with a similar looking gold crown on small tea sets which the experts thought were European not Far East.
I will publish your submission and with a bit of luck, one of our knowledgeable contributors will help out on this one – (check out the comments section below for replies).
For general advice on how to either price up your collection or find replacements for it, I wrote this page:
The Searching Secrets To Finding Your China Replacement Online ….more
.
For specific advice on how to 'save a search' on eBay (for pricing or finding your desired item) go here:
How to easily find replacements, prices and information on vintage and antique china online ..... more
Best regards
Peter (Admin)