Pottery Mark Query - W W in laurel wreath with crown above and Bavaria underneath
by Debbie Blareau
(United Kingdom)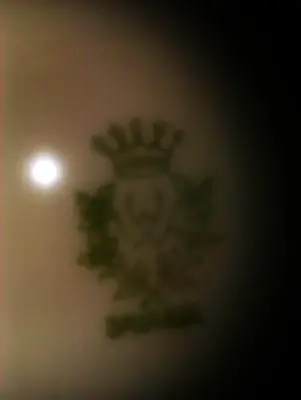 Pottery Mark Query - W W in laurel wreath with crown above and Bavaria underneath
Pottery Mark Query - W W in laurel wreath with crown above and Bavaria underneath:- I have admired a set of China my mother was given a few years ago by a friend who had won it in a raffle and did not like it. My mum did and so it became hers. My mum passed away unfortunately about a year ago and my father asked me if I would like to have the China.


Of course I said yes as I loved it!
The set consists of 8 cups, 8 saucers and 8 side plates. The saucers and side plates are triangular shaped which is one of the things I love about this set. The cups are quite shallow. The pattern on the set consists of gold squiggly markings with red, yellow and green elongated triangles on a cream background. The edges of the saucers, plates and cups are also painted gold.
The markings underneath consist of a laurel wreath with W W inside with a crown above and Bavaria underneath. Some of the pieces also have the number 21 underneath Bavaria. The markings are in silver. I have looked everywhere for this mark and pattern on the China to no avail!
I would love to know who made it and when and I know my mum would have been thrilled to have known too.
Debbie Blareau
Please contribute to this thread by writing in the comments section below – just scroll down...
HOW I MADE MONEY FROM BITS & BOBS OF OLD CHINA

.....more
Pottery Mark Query - W W in laurel wreath with crown above and Bavaria underneath
Hi Debbie
First thing to say is I like this china set very much and think it is a marvellous example of post-war modernist design. I am not surprised you treasure it and are holding onto it like crazy. For me, it should be in a design museum as it is such a splendid example. Quite beautiful!
Now, onto the question of who made it....
This is a mark very similar in style and graphics to a German firm called Heinrich Winterling
of Bavaria, Germany (a fantastic fine china region and one which spawned such giants and Rosenthal and Hutschenreuther, no less). There are slight differences to the crown and other details. A reasearcher who runs the website www.porcelainmarksandmore.com has tried to establish whether or not this is a genuine mark of the company by actually asking the company (who up to 2010 were still in business). Their answer was that much of the past records were destroyed in a fire, so they had no more idea than us.
The only way it could not be their mark is if a post-war Japanese company had taken the mark and done a slight variation of it and stolen it.
There are many examples of this happening in the 1950's and 60's with cheap Japanese imports trying to look European and therefore more classy.
However, I feel this is unlikely as Heinrich Winterling is such a small and obscure maker. I feel this must be a variation of their own mark which there is no catalogue for.
The reason I say this is the superb quality of the design - in graphics, shapes and fine ceramic body. I am not saying a Japanese rip-off firm could not have produced a design like this, but I feel it is unlikely. Far more likely, in my view, that this is an original European design of the 1950's.
The history of Heinrich Winterling is that he took over a ceramics firm called Drechsel & Strobe in 1903 in a town called Marktleuthen, Bavaria. Heinrich was of the famous Winterling family, but his firm was not directly associated with Gebruder Winterling of Röslau Bavaria. His firm actually pre-dates the more famous Winterling firm by a few years.
For more information on the marks of Heinrich Winterling, go here:- http://www.porcelainmarksandmore.com/bavaria/marktleuthen_1/00.php
Also, if anyone has a piece with this pottery mark let us know what you have - it all adds to the knowledge base.
Peter (admin)
p.s. The following page is a 'must see' if you are researching fine china - for value and identification:-
Researching the identity and value of antique and vintage fine china
.